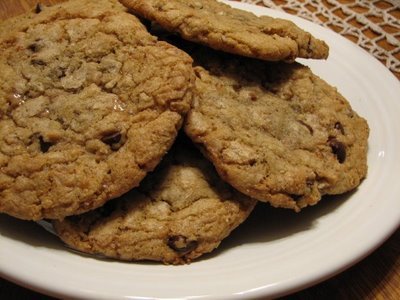 My two main hobbies right now are cooking and blogging. Cooking is time consuming when you do as much of it as I do. I cook more than necessary. I love to bake and I bake way more then we eat. I end up giving a lot of my baked goods away. I love it, but it does take a lot of time. It can also be an expensive hobby when you love all kinds of cookbooks and kitchen gadgets like I do.
My second hobby, blogging, is also very time consuming. It actually takes up more time than I ever realized. But I have also enjoyed it more than I ever realized. Last week though my two hobbies finally paid off, well, at least a little.
Last fall I posted a recipe for a Chocolate Toffee Pecan cookie. I took a chocolate chip cookie recipe that I love and adapted it with toffee and pecans. It was through blogging about this recipe that I found out about a recipe contest that Bass Pecan was having. I entered the contest and sometime in October I was chosen as their recipe of the week. I had never entered a recipe contest before, so I was thrilled to be chosen for the recipe of the week.
For winning, Bass Pecan sent me some pecans, which I thought was a great prize. I knew that I was then entered into the contest for the grand prize, but I never really thought much about it. I figured the contest was over and forgot about it. That was until last week. I was notified that I won the grand prize. My cookies won. I can't believe it. My cookies won $1,000. That was the grand prize. Wow! I love these cookies, but I am still suprised they won $1,000!
I still can't believe it. My hobbies are paying off. I have never won anything like this before and I am so excited. Can you tell?
Do you like the picture above? They asked me to send them a picture of some that I had made and I am trying to decided if I like this one. Do you like it? My family hopes that I need to keep taking pictures to get the right one. They want me to keep baking cookies. But I think the one above is pretty good. Let me know what you think.
And if you have not tried these cookies, you really should they are so good.