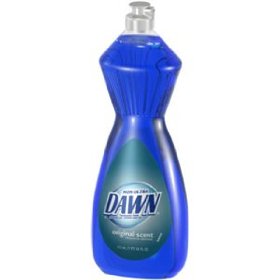 I love aprons, but I am terrible about wearing them. I don't know how many clothes I have stained because I did not wear an apron. Many times the stain has been grease, which in my experience is one of the hardest stains to remove.
In fact, I recently thought I ruined a pair of pants due to a grease stain. I tried everything to remove the stain and nothing worked. I was quite sad because this was one of my favorite pairs of pants.
I am tall. I have trouble finding pants that fit me. Not many brands make pants with a 35 inch inseam. So, I will admit I spend money on my pants. This particular pair was an Eddie Bauer pair that was not cheap. I loved them and wore them all the time. I was very unhappy with myself for staining them because this was far from the first time I had ruined something like this. I should have known better and worn an apron.
I was recently complaining about ruining clothes and this specific pair of pants. My friend Alyssa asked me if I had tried dish soap on the stain. I told her I had tried just about everything else, but no I had not tried dish soap. She told me that it works great on grease stains and to give it a try.
To be honest, I wasn't at all convinced that dish soap would work, but I was willing to try it. I placed some dish soap on the stain and rubbed it in. I let it sit for a few hours and I rinsed it out. I was shocked. The stain was gone!
I could not believe that the dish soap had removed the grease stain. Alyssa was right, this trick works great. I have since used dish soap to remove grease stains from one of my shirts and also one of my husband's shirts.
I love the fact that this works so well, but not only does it work well, dish soap is so inexpensive. It is also something I always have on hand.
So, next time you have a grease stain on a piece of clothing, go to your kitchen sink and grab the dish soap. You might be surprised at what it will do.
For more frugal ideas see Frugal Fridays.