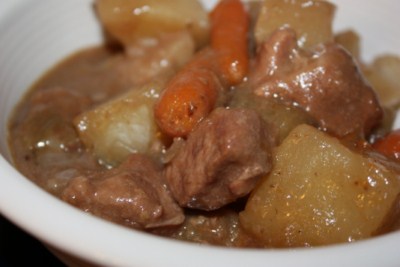 Growing up we ate a lot of stew. It was on the menu often. It was one of my dad's favorite ways to eat beef, so we had it frequently.
For a long time I did not like stew. I think I ate too much of it growing up, but my husband loves it, so I find myself now cooking it.
I have realized what a great meal it is for feeding a family. It is a meal in one. Meat, potatoes, and vegetables all served together. Meals like that are perfect for busy families.
One of my favorite ways right now to cook stew is in the crockpot. My mom did not have a crockpot until I was older, but if she would have had one when I was growing up, I am sure she would have used it for stew.
Using a crockpot for stew makes it so easy. You can start this in the morning and by 6:00 you will have a healthy and hearty meal waiting for you.

Slow Cooked Beef Stew
2 pounds beef stew meat, cut into 1 inch cubes ( you can also use another cheaper type cut of meat)
1/4 cup all-purpose flour ( I now use a gf flour blend)
1/2 teaspoon salt
1/2 teaspoon ground black pepper
1 clove garlic, minced
1 teaspoon paprika
1 teaspoon Worcestershire sauce
1 onion, chopped
1 1/2 cups beef broth
3 potatoes, diced
4 carrots, sliced
In a bowl mix together the flour, salt, and pepper. Add meat and stir to coat. Place in meat mixture in crockpot and add garlic, paprika, Worcestershire sauce, onion, beef broth, potatoes, and carrots. Cover, and cook on low setting for 10 to 12 hours.