One of the things I love to do is recreate restaurant favorites at home.
I know a lot of people love to go out to eat, but I have always enjoyed recreating dishes at home. Eating out can be expensive and I realized a long time ago that if I can recreate food at home, it would save us a lot of money.
With all our food allergies and issues, eating out is very difficult, so my love of recreating dishes as home as been very useful over the last few years.
Today's Restaurant Style Fettuccine Alfredo is an example of a recipe I recently came up with to recreate one of my favorite dishes. You see I love fettuccine Alfredo.
It was one of my favorite meals to order when we would go out, but most restaurants do not offer a gluten free fettuccine alfredo, so I have been on a mission to recreate a restaurant style fettuccine alfredo at home that I could serve with gluten free pasta.
And I finally came up with one that I love. This fettuccine alfredo is so delicious.
It is so close to what I remember eating at many restaurants and I am very glad that I can now make it at home.
If you are looking at the above picture saying that is not fettuccine, you are right, it is not. I used gluten free spaghetti noodles because that is what I had. To keep it more authentic, feel free to use fettuccine for the pasta.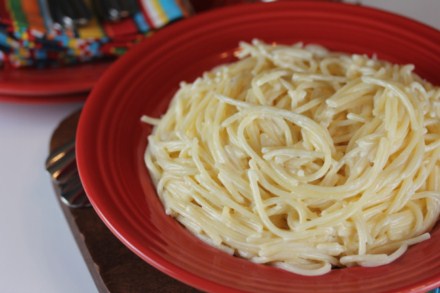 Restaurant Style Fettuccine Alfredo
12 ounces fettuccine pasta, I used a gluten free spaghetti noodles
1 tablespoon butter
1 clove garlic, minced
1 cup heavy cream
1/2 teaspoon salt
2 tablespoons sour cream ( Don't leave this out, it adds an extra depth of flavor that makes this so good.)
2 tablespoons parmesan cheese ( This is the real stuff, not the stuff in the green can.)
Cook pasta according to package directions.
While pasta is cooking start making the alfredo sauce by melting the butter over low heat in a skillet.
Add garlic to melted butter and cook for about 30 seconds.
Add cream and stir constantly over medium low heat.
Add salt and sour cream and continue cooking for about 1 minute.
When sour cream is completely blended into the sauce, remove from the heat and stir in cheese. Stir until smooth.
Drain pasta and stir sauce into drained pasta.
Serve and enjoy!