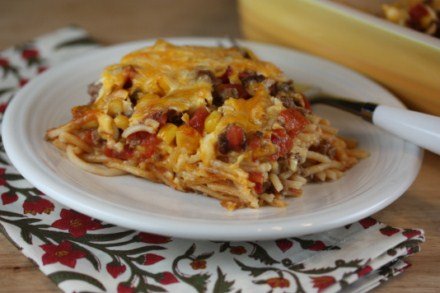 Who doesn't love a good baked spaghetti? All that pasta and cheese baked to perfection in the oven. Delicious!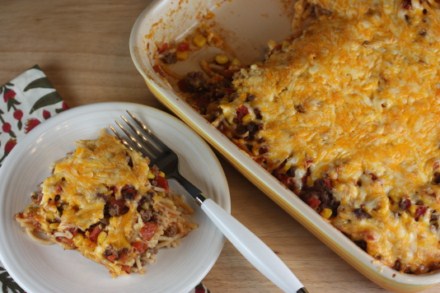 Today's recipe is a fun take on your regular baked spaghetti. It is baked spaghetti with a fun southwest flavored twist and it is a meal that my whole family loved.
To make this gluten free I use gluten free noodles.
Southwest Baked Spaghetti
12 ounces spaghetti noodles ( I use gluten free noodles)
1 pound ground beef
1- 14 ounce can diced tomatoes
1- 15 ounce canned corn, drained
1- 10 ounce can tomatoes with green chilies
1- 10 ounce can enchilada sauce or use homemade
3 cups shredded colby jack or mexican blend cheese
Cook spaghetti according to directions.
In a pan cook ground beef until browned. Drain off fat and return cooked meat to pan.
Stir in the diced tomatoes, corn, tomatoes with green chilies, and enchilada sauce. Stir well and cook on low for 10 minutes.
Place half of the drained pasta in the bottom of a greased 9×13 pan.
Spread half of the sauce over the noodles and then half of the cheese.
Cover with remaining noodles, sauce, and cheese ending with cheese.
Baked at 350 for 35-40 minutes or until heated through.
Let stand 10 minutes before cutting. Serve and enjoy.