Roasted vegetables with sausage and potatoes is one of my favorite easy healthy meals.
I debated on what to call this recipe. It is basically roasted vegetables with sausage and potatoes. Right now it is popular to call meals like this sheet pan dinners. It is a similar concept to my sheet pan fajitas and my sheet pan stir fry.
The reality though is that sheet pan meals are nothing new. People have been making sheet pan meals and one pan oven meals for years and years.
The sausage and potatoes recipe that I shared with you eight years ago is basically a sheet pan meal. I make it in a 9×13 pan, a sheet pan, or whatever pan I need for the amount I am making.
Sheet pan dinners might be a new name, but it is an old concept.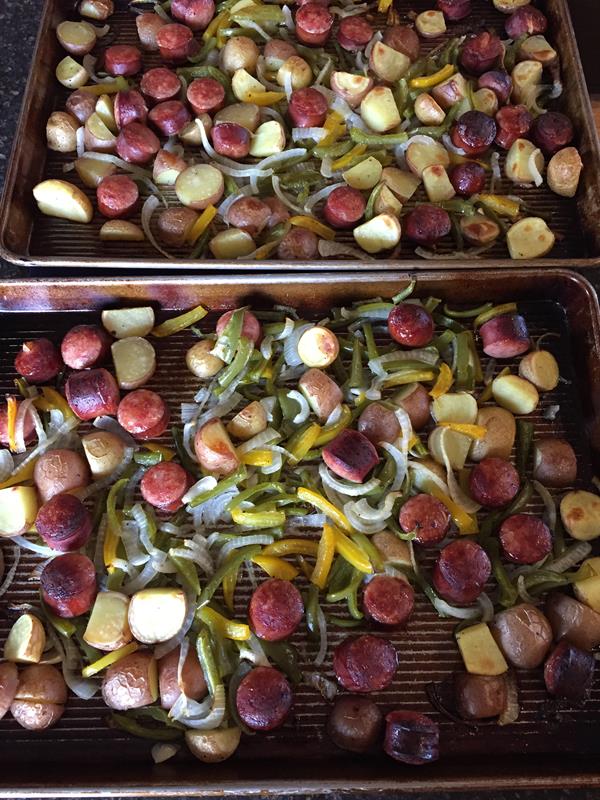 One of the things that I love about this meal is that I can use whatever vegetables I have on hand. My favorite vegetables to use are onions and peppers, but sometimes I add zucchini, yellow squash, mushrooms, broccoli, or whatever else I have on hand that needs to be used up.
I also love that this is a meal all by itself. I can serve just this for dinner with nothing else. When I served it last week my son asked if he could put his on a tortilla and my husband thought that was a great idea. So my daughters and I ate it just like it is, but my husband and son put it on a tortilla with some cheese and salsa. They loved it that way.
My family loves meat and I get complaints if I serve too many meatless meals, but you could easily leave the sausage out of this and just do a roasted vegetables and potatoes meal.
No matter how you serve this it is an easy and healthy dinner.
This makes quite a bit because we like to have leftovers. If you are a smaller family or are just serving a couple of people, you may want to half this recipe.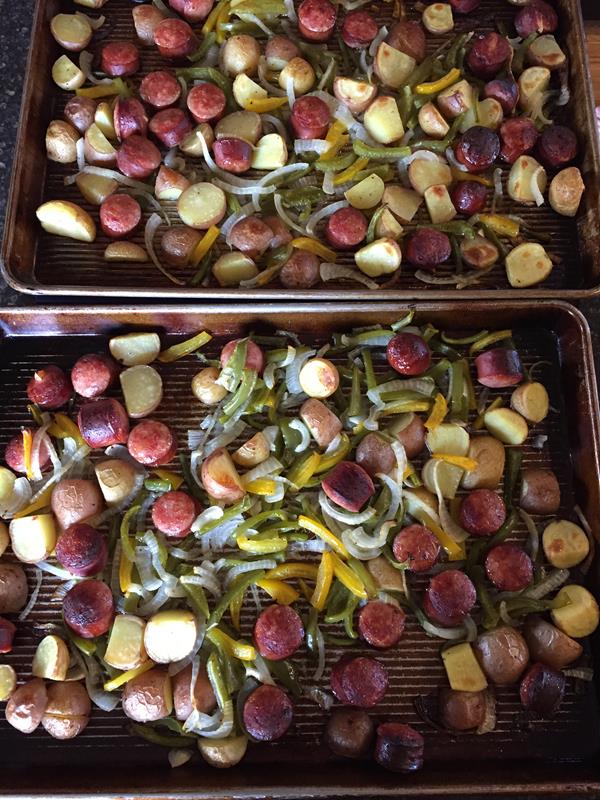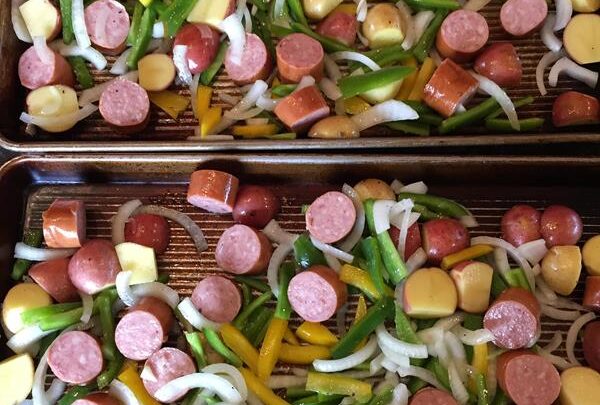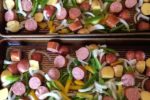 Roasted Vegetables with Sausage and Potatoes
Roasted Vegetables with Sausage and Potatoes is an easy sheet pan dinner.
Ingredients
2

pounds

fully cooked kielbasa sausage or similar type of sausage

1

onion, thinly sliced

1 -2

pounds

baby potatoes, washed

3-4

green, red, or yellow peppers

1/4

cup

oil

1

teaspoon

salt

1

teaspoon

paprika

1/4

teaspoon

ground black pepper
Instructions
Preheat oven to 400 degrees.

Slice sausage and potatoes.

Place sausage, potatoes, onion, peppers, oil, and seasoning in a large bowl. Stir until coat well.

Spread mixture onto 2 sheet pans. For easy clean up line sheet pans wit foil before spreading mixture onto pan.

Bake for 30 minutes, stir, and bake 15-20 minutes more or until vegetables are tender.