Need a quick and easy breakfast, lunch, or dinner? Bacon and cheese microwave omelet is a simple meal that is perfect for just one or two people.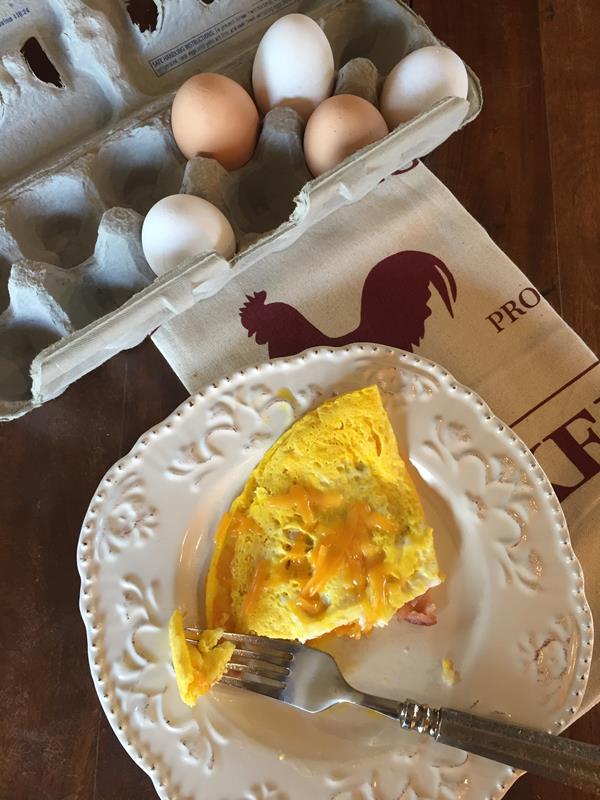 I have three kids. My youngest is a 6 foot 5 inch, sixteen year old boy. He might actually be closer to six feet six inches now because it has been awhile since we measured him. And he is always hungry.
We are at the stage that there are rarely any leftovers at our house. If there are any leftovers, they don't last long. Although I enjoy using up the food, I have had to rethink lunches an leftover night at our house.
For years lunch has been mainly leftovers. We also often had a leftover night at our house. I would just set out all the food that was leftover in the fridge and everyone ate what they wanted.
It was a good way to use up everything and it gave me a night off of cooking. Leftovers also worked well when part of the family was gone and only a couple of us were home for dinner.
Those days are gone though. I know at some point I will have leftovers again, but for now I am having to rethink some of our meals.
One of the things I struggle with is when just one or two of us is home. Sometimes it is just me at home for dinner when everyone else just grabs a quick sandwich for dinner on the way out the door for a class or other event.
Over the last few months, when I have had those nights, where I am the only one eating and there are no leftovers, I have been loving microwave omelets.
I have been making my Mexican Microwave Omelet a lot, but last week I wanted to change it up a little. I had a couple of pieces of bacon in the fridge and decided to keep the omelet simply with just bacon and cheese. It was delicious. It reminded me once again why I love microwave omelets.
I will fully admit that they are not the best omelet ever. Julia Child would probably never approve. But making the omelet in the microwave makes it quick and easy to make and it has very little clean up. And although it might not be the regular way to make an omelet it really is good!
It really is an easy meal for just one or two people. I also love that it works well for breakfast, lunch, or dinner.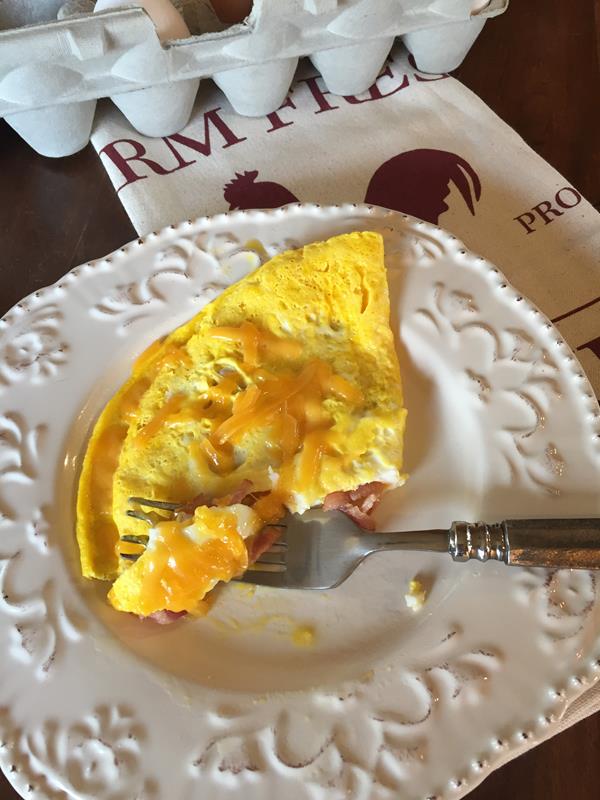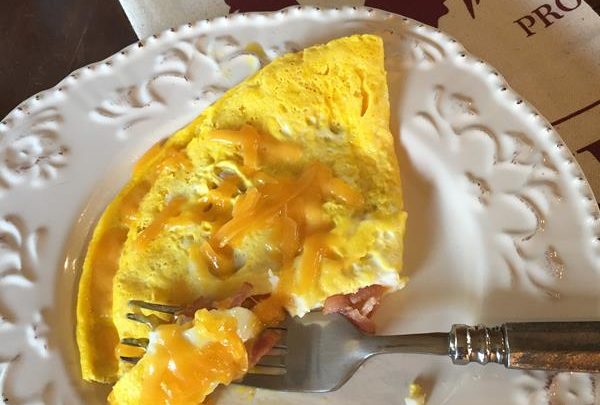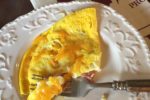 Bacon and Cheese Microwave Omelet
Quick and easy breakfast, lunch, or dinner.
Ingredients
1

teaspoon

butter

2

eggs

2

tablespoons

water

2

pieces

bacon, cooked and cut into pieces

1/4

cup

shredded cheddar

Mexican, or Colby jack cheese

salt and pepper to taste

optional
Instructions
Beat eggs and water together in a small bowl or cup. Set aside.

Place butter in an 8 or 9 inch microwave safe pie plate. Cook for 15 seconds or until butter is melted.

Tilt plate to swirl butter around and coat bottom of pie plate.

Pour egg mixture into pie plate. Microwave on high for 1 minute 45 seconds to 2 minutes. Do not stir. If liquid is visible, microwave 15-20 seconds more or until no visible liquid remains, be careful not to over cook it. You do not want it too dry.

Sprinkle bacon over one half of the omelet. Sprinkle half of the cheese over the bacon.

Using a turner or spatula, fold omelet in half.

Sprinkle with remaining cheese.

Microwave for 30 seconds or until cheese is melted and eggs are set.