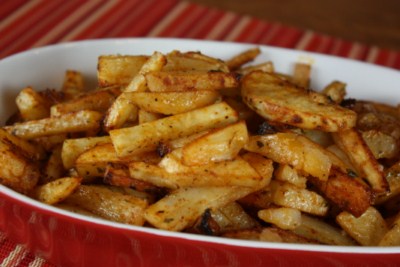 I have a new favorite way to cook by oven roasted french fries.
Instead of using salt, I use my homemade Emeril's Seasoning Mix, and it is so good.
It takes my simple oven fries, and gives them a whole new taste.

Seasoned Crispy Fries
2-3 lbs of russet/baking potatoes
¼ cup vegetable oil ( yes that is a lot, but it is what makes these so good)
2  teaspoons Emeril's Seasoning ( or more to taste)
Heat oven to 450 degrees. Peel potatoes and cut potatoes into french fry size sticks. I slice them and then cut the slices into sticks about ¼-1/3 inches thick.. Toss potatoes in oil and seasoning. Bake in preheated oven for 15 minutes, stir potatoes to loosen, and bake 10 more minutes or until edges are crisp.