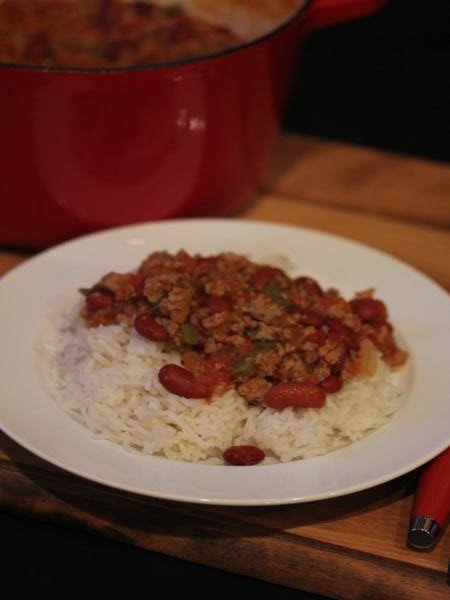 Food has been on my mind a lot lately. Of course that is probably not a huge surprise to many people, I run a food and cooking website after all. Food is often on my mind. So I guess it is something more specifically about food that I have been thinking about. I have been thinking about the types of food we serve our families and how things are changing with food.
We are all dealing with busy schedules. And not only that we are all dealing with the rise of grocery prices. Yes, the rise in grocery prices. Has anyone else noticed the price of food lately? It seems like I am spending more money only to leave the store with less food.
Along with busy schedules and rising food costs, we are also all trying to serve our family healthy family friendly meals. Combining those three things into kitchen life can be quite a challenge. Or maybe more of an adventure.
Yes, I would say that serving healthy, home cooked meals, without breaking the budget, can be quite an adventure, but I have learned that adventures can be fun. Really they can be fun, especially kitchen adventures.
So let's take busy schedules and rising grocery prices and look at them as an adventure, not a challenge.
Over the last few months I have found myself turning more and more to the basic, more old fashioned, simple recipes. Many of the recipes on my site are pretty quick and easy and use basic ingredients, but I have found myself turning even more to these types of recipes. I need more budget, family friendly, quick and easy meals just like all of you.
As I am cooking more and more of these types of recipes, I am sure many of them will find there way here to be shared with you all. After all this site really is a look into my kitchen and I know many of you are dealing with the same struggles I am.
Today's recipe is one of those recipes that is so quick and easy to make, yet very budget friendly. It uses basic ingredients that almost everyone has on hand. And it is full of flavor.
This recipe contains beans and rice. Some of you may be thinking, really beans and rice?! Beans and rice often get talked about in a negative way, but they really are a great budget friendly meal that can be delicious.
Beans and rice are a common combination, especially in the southern part of the United States. There are many ways to cook beans and rice. You can vary the beans. You can vary the meat. You can cook it all day or you can do more of a quick cook method using canned beans.
This recipe today keeps the quick and easy in mind and also uses ground sausage, which is something I almost always have in the freezer. If you like food really spicy, like my husband does, simply add a little extra chili powder to this or add some hot sauce.
Simple, easy, and delicious!
And what do you all think, do you want to see more quick and easy budget friendly meals like this?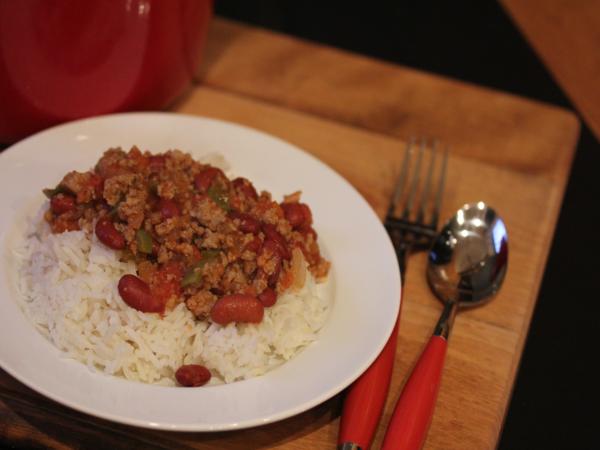 Yield: 8 servings
Simple Sausage and Beans Over Rice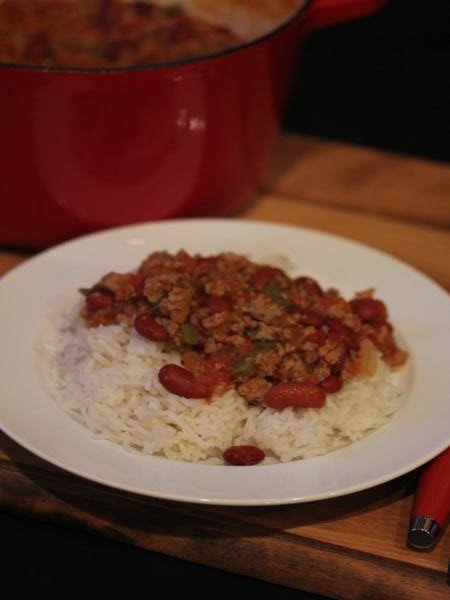 Simple Sausage and Beans is an easy dinner using basic pantry ingredients.
Ingredients
1 pound ground sausage
1 onion, chopped
1 green pepper, chopped
1 clove garlic, minced
1- 8 ounce can tomato sauce
1 can kidney beans, rinsed and drained
1- 14 ounce can tomatoes
1/2 teaspoon chili powder
1 teaspoon worcestershire sauce
1 teaspoon salt
cooked rice
Instructions
In a large skillet cook sausage, onions, and green pepper until meat is browned and vegetables are tender. Drain off any fat.
Add garlic and cook 30 seconds.
Add remaining ingredients, except rice. Bring to a boil. Reduce heat to simmer. Cover and simmer for 20-25 minutes.
Serve over rice.
Notes
If you are gluten free be sure to read labels to be sure the ingredients like sausage are gluten free.
Nutrition Information:
Yield:
8
Serving Size:
1
Amount Per Serving:
Calories:

268
Total Fat:

17g
Saturated Fat:

5g
Trans Fat:

0g
Unsaturated Fat:

9g
Cholesterol:

35mg
Sodium:

1025mg
Carbohydrates:

19g
Fiber:

4g
Sugar:

5g
Protein:

11g
Nutritional values are approximate and aren't always accurate.