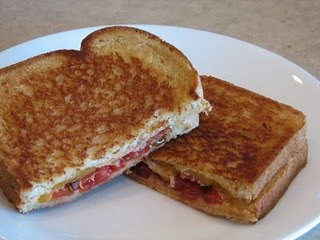 This is not exactly a recipe but it is a sandwich we enjoy during the summer. You can make it anytime of the year but we like to do make it during the summer when we have fresh tomatoes from our garden. It is a version of a grilled cheese mixed with a BLT minus the lettuce.
This is really good with a crusty sourdough bread and grilled like you would a panini sandwich. If I do not have any sourdough style bread I just use regular bread and grill it like I would a grilled cheese sandwich.
Grilled Bacon, Tomato, Cheese Sandwich
several slices of bacon cooked
thinly sliced tomatoes
sliced cheese (I like mine thickly sliced)
bread
Butter one side of each slice of bread. Place bread on hot grill and place ingredients on bread. I like to go cheese, bacon, tomato, cheese. That way the cheese holds it all together. Place another slice of bread on top with buttered side out. Cook a few minutes and flip over and cook until done.
Okay did I really have to give you directions on how to cook this. 🙂 I hope you enjoy.