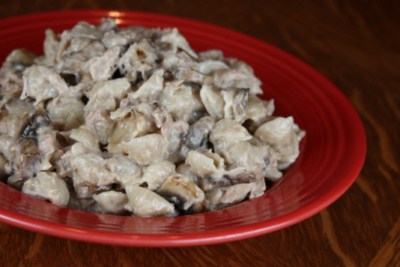 This is not your typical tuna casserole. In fact, this isn't really a tuna casserole at all. If anything this is a fancy tuna casserole, if there is such a thing.
I don't like regular tuna casserole. I have stayed away from most of them. However, when I saw a recipe for tuna skillet, I realized it was not a typical tuna casserole.
What makes this dish different? First the heavy cream, yes it makes it less healthy, but it also gives it a nice creamy texture. Most tuna casseroles contain some sort of cream soup. I like this one because it uses cream instead of canned soup to give it the creamy consistency.
The other thing that is different about this is it is not cooked in the oven. Most tuna casseroles are cooked in the oven with some type of crunchy topping. This dish is more like a pasta dish. Just simple stove top pasta with a sauce.
This also uses the pouched tuna. I love the pouched tuna. Yes, it is more expensive, but I think the texture is much better than canned tuna.
Skillet Tuna Casserole
2 tablespoons butter
10 ounces mushrooms sliced thin
1 onion, minced
½ teaspoon salt
3 cups egg noodles ( I now use 3 cups of gf noodles. If using gf noodles add ½ cup extra water or broth to this)
2 cups low-sodium chicken broth
½ cups heavy cream
½ cup milk
1 cup frozen peas, optional, I leave these out since several in my family do not like peas
2 (7-ounce) foil pouches tuna , flaked (sometimes I put 3 pouches in)
1 teaspoon for dried parsley leaves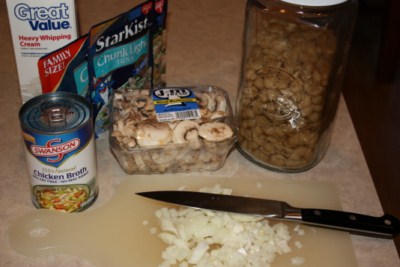 Melt the butter in a 12-inch skillet over medium heat. Add the mushrooms, onion, and 1/2 teaspoon salt. Cook until the mushrooms and onions are browned, about 10 minutes. Transfer the mixture to a bowl.
Sprinkle the noodles into the skillet. Pour the broth, milk, and cream over the noodles. Cover and cook on low, stirring occasionally, until the noodles are tender, about 10-12 minutes.
Stir in tuna, mushroom mixture, peas if using, and parsley and allow to heat through, 1-2 minutes. Season with salt and pepper to taste.
This post linked to $5 Dinner Challenge.