Slow Cooked Copycat Chicken Tortilla Soup is a delicious homemade version of one of a restaurant favorite.
Making your favorite foods at home is a simple way to save money and eat healthier. Those frequent stops by a local restaurant, or those times you pick up convenience foods at the grocery store, are a sure way to ruin the budget and eat less healthy. That is why I love making my favorite foods at home.
I will totally admit though that this recipe came about because I was buying a convenience food that costs way too much for what I was getting.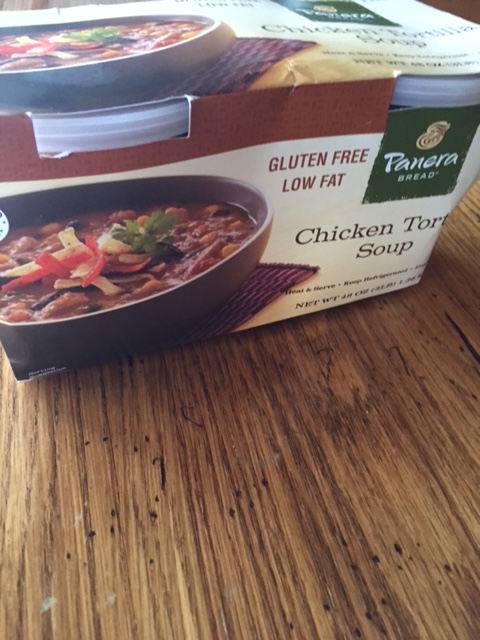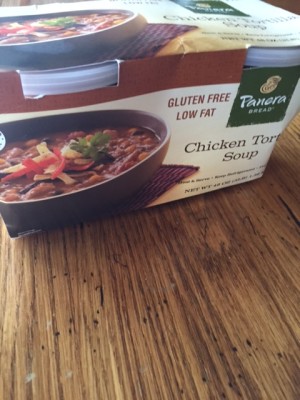 Now I will say that I have only bought this a few times, but it only took me a few times of buying it to realize that I could be saving a lot of money by making it myself at home.
Really, I knew this the first time I bought it, but I gave in and bought it anyway… What caught my attention and made me buy this was the gluten free part. When you deal with food issues and allergies, like my family does, you are very limited on what convenience and fast foods you can have. They really are very few out there that are safe for us.
So the fact that it was gluten free and that the rest of the ingredients were safe is what convinced me to buy it. I will say it was delicious and very easy to serve for lunch or dinner, but those two containers pictured above cost me $12.98 and it did not really feed my family of 5. We each got a bowl, but it certainly didn't fill any of us up. I ended up having to add a few things to it to make enough for a meal that everyone was happy with. So, the cost for dinner was well beyond that $12.98.
I knew that I could easily make a whole crock pot of soup for the price, or less than the price, that this cost me. I could also easily freeze it in containers to keep on hand for busy days. That way I would be less tempted to buy it next time I saw it.
Now, I will say that the Panera Clam Chowder that Sam's Club sells is totally worth buying. I might be making the chicken tortilla soup at home, but I think the Clam Chowder one is totally worth the money and I will probably still buy it occasionally.
First of all I live in Oklahoma, not exactly known for good seafood. Second of all clam chowder can be hard to make at home. Yes, you can make it and I have, but good clam chowder can be challenging. And the ingredients for clam chowder can be a bit expensive, so the fact that I can get a decent clam chowder for less than $13 is totally worth it for me. And yes it is gluten free too!
So although I will be making the chicken tortilla soup at home, you will probably occasionally find a clam chowder in my grocery cart. Now back to the chicken tortilla soup.
I decided to make this in the Crock Pot to make it a little easier to make for dinner, but since the chicken is cooked you could also make it on the stove and just cook it on low for 15-20 minutes to blend all the flavors together.
I also used a mild enchilada sauce for this, but you could use a medium or hot if your family likes food a little spicier. The tortilla strips in this make it more like the Panera version, but if you want to save time you could easily leave them out and serve it with tortilla chips.
I think the tortilla strips are worth the little bit of extra time they take though. My family actually ended up liking this a lot better than the version I bought. And I liked the fact that it tasted great and cost a lot less.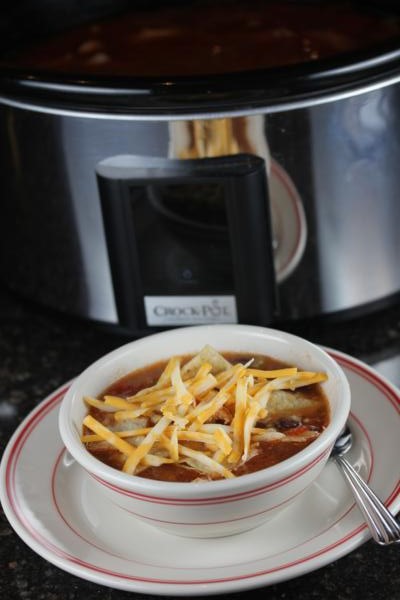 Yield: 10 servings
Slow Cooked Copycat Chicken Tortilla Soup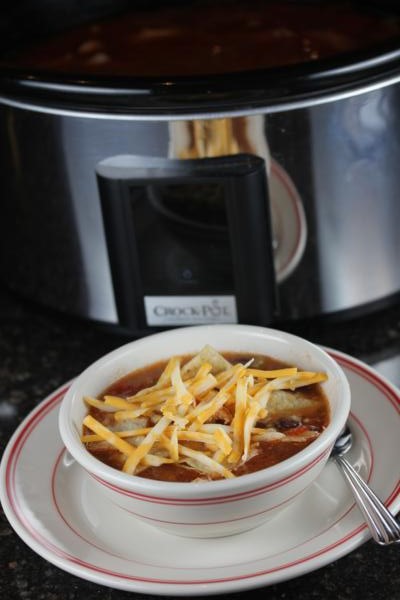 If you love the famous brand of chicken tortilla soup this slow cooked copycat chicken tortilla soup is a must try.
Total Time
5 hours
8 minutes
Ingredients
2 pounds cooked boneless skinless chicken, shredded
2- 14 ounce cans diced tomatoes
2 - 16 ounce cans black beans, rinsed and drained
2-10 ounce cans enchilada sauce or homemade enchilada sauce
2- 4 ounce cans chopped green chilies
2 cloves garlic, minced
1- 14.5 ounce can chicken broth
2 teaspoons cumin
2 teaspoons chili powder
1- 14.75 ounce can corn, drained
6 corn tortillas
shredded cheese, for serving
Instructions
Place all ingredients, except tortillas and oil, in a crock pot.
Cook on low for 4-5 hours or on high for 3-4.
Right before serving heat oven to 400 degrees.
Lightly brush tortillas with oil. Cut into strips and place on a baking sheet.
Bake for 8-10 minutes or until tortillas are crisp.
Serve soup with tortillas, cheese, sour cream, etc.
Notes
If you are gluten free be sure to read labels to make sure the ingredients you are using are gluten free.
Nutrition Information:
Yield:
10
Serving Size:
1
Amount Per Serving:
Calories:

416
Total Fat:

10g
Saturated Fat:

3g
Trans Fat:

0g
Unsaturated Fat:

5g
Cholesterol:

84mg
Sodium:

1010mg
Carbohydrates:

45g
Fiber:

13g
Sugar:

10g
Protein:

39g
Nutritional values are approximate and aren't always accurate.