Slow Cooked Pickled Beef Sandwiches are a simple slow cooked dinner that is full of flavor!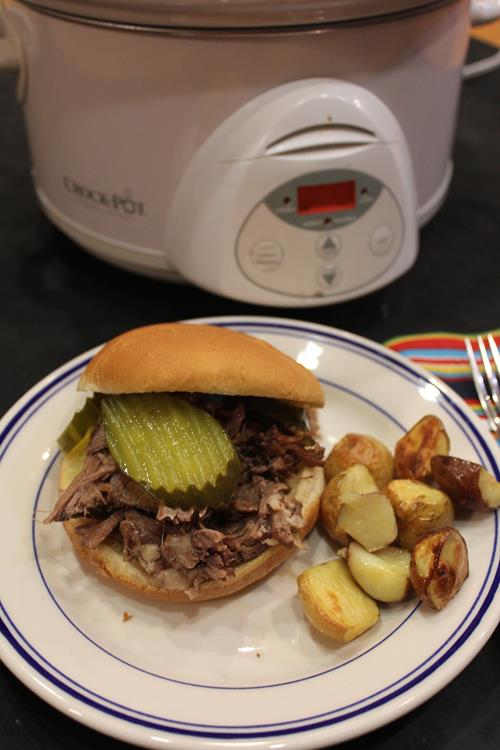 Thank you all for your kind words on my post last week about being sick. I really appreciate it. I am feeling much better. Not 100%, but better. Thank you for your thoughts and prayers!
Now for a new recipe!
If you, or someone in your family, loves pickles this recipes is for you! If you hate pickles you might want to keep on scrolling because this recipe is full of pickles. It tastes like pickles. Which is wonderful if you love pickles. Not so wonderful if you don't.
I have three in my family that love pickles. Like really love them. My son and I like them, but my husband and daughters love them.
I kept seeing recipes for pulled beef with pickles. There are several versions that I have seen. Paula Deen has one and so does Taste of Home. It is basically a roast cooked with pickles, shredded, and served on bread as sandwiches.
Some recipes add a few other ingredients, but they are all basically the same. The main ingredients are pickles and beef.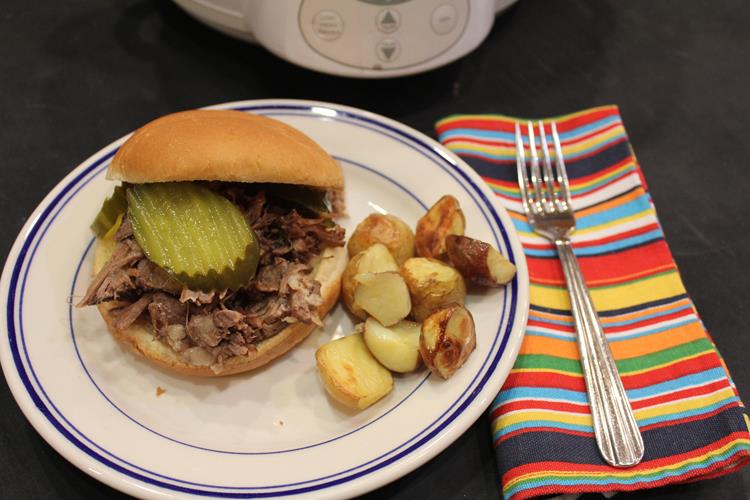 Since I have some pickle lovers in my family, and I had a few roasts in the freezer that I needed to use up, I decided to give it a try.
The results were delicious! The meat was tender and full of flavor. My family loved it. This will be something that we make again and again for an easy dinner.
This is one of those recipes that I don't think has to be exact. I used sliced pickles because that is what I had. Most of the recipes call for spears. I will say that the pickles and the pickle juice give the meat great flavor, but pickles that have been cooked all day in the crock pot are awful. The texture is terrible. Toss the pickles out and just use the meat and juice. Spears might be easier for that reason.
Slow Cooked Pickled Beef Sandwiches
1- 24 ounce jar of pickle spears or slices, with juice
2 -3 pound chuck roast
buns or bread
Place roast in slow cooker and pour pickles and liquid on top.
Cook on low for 7-9 hours.
Remove meat from slow cooker and shred.
Add some of the liquid from the crock pot to the meat. Add enough liquid for desired consistency. I added about 1 cup.
Serve on buns or bread. With extra pickles if desired. Cheese is also good served on this.
Note: Those that are gluten free in my family just ate this as shredded meat with no bun and we enjoyed it.