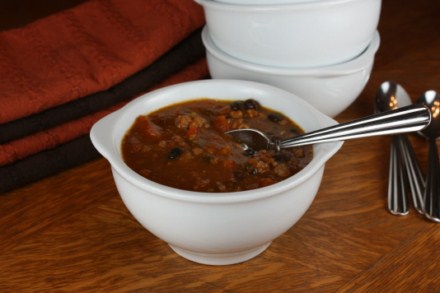 Earlier this month when I had pumpkin chili on the menu plan several of you commented about it and were curious what it was like.
Well, I am happy to report that my whole family loved the pumpkin chili.
Every time  I see a recipe for pumpkin chili I find it interesting and think to myself that I need to try making my own version of it. This year I was determined to give it a try and I am so glad that I finally did.
All three of my kids enjoy pumpkin, so this was not about sneaking a vegetable into their food, but if your kids are not big fans of pumpkin this might be a good way to get them to try it.
Because there are so many flavors going on in chili the pumpkin is not very noticeable. It has a very subtle taste. It gives it a little different flavor than most chili, but you can not tell it is pumpkin.
This will definitely be on the menu plan again soon.

Slow Cooked Pumpkin Chili
1 onion, chopped
3 cloves of garlic, minced
2 cups chicken broth
2 cans of black beans, drained and rinsed
1 lb of ground beef
1 – 15 ounce can of pumpkin
2- 14 ounce cans of diced tomatoes
1 teaspoon of dried parsley
2 teaspoons of chili powder ( add more if you like things spicier)
1 teaspoon of oregano
1 1/2 teaspoon of cumin
Cook onion and ground beef until onion is tender and the beef is done.
Add garlic and cook for 1 minute more.
Place meat, onion, garlic mixture into a crockpot.
Add remaining ingredients.
Cook on low for 5-6 hours.
Serve and enjoy.
This post linked to the
$5 Dinner Challenge.