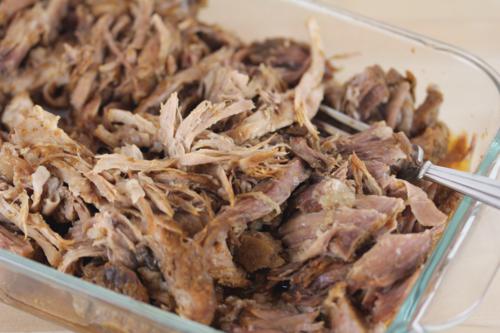 Last week for my crock pot favorites series I shared a recipe for slow cooked black beans that we love to layer as burrito bowls. Today I have the spicy pork that I like to use along with the black beans for burrito bowls.
One of the things I love about burrito bowls is that they work great for serving a crowd. A large pot of beans, a pork roast like this one today, rice, cheese, salsa, lettuce, chips, and whatever else you like piled on and you have a pretty inexpensive meal that will serve quite a few people. And it works great buffet style where everyone can make their own.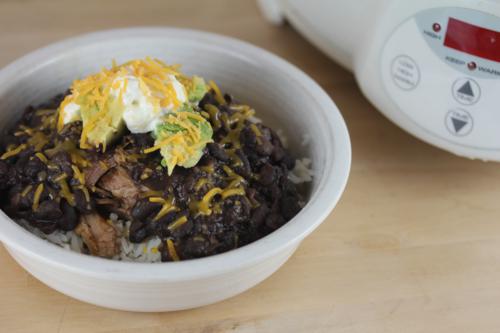 This pork is great for a burrito bowl type meal, but we also love it for pork tacos, a burrito filling, on top of chips as nachos, and really any Mexican type meal. This filling really is an all purpose Mexican or Tex-Mex type meal and it freeze well.
Slow Cooked Spicy Pulled Pork
3-5 pound pork shoulder roast-

I like to brine my pork roast 

1 onion, quartered

1/2 cup brown sugar

2 teaspoons chili powder

2 cloves garlic, minced

1 teaspoon oregano

2 teaspoons cumin

1 teaspoon salt

2 tablespoons oil

1/4 cup orange juice
Place roast in crock pot and set aside.

In a food processor or blender combine onion, brown sugar, chili powder, garlic, oregano, cumin, salt, oil, and orange juice. Puree.

Pour sauce over pork roast and cook on low for 7-8 hours.

Remove roast from crock pot and shred.

Pour some of the sauce over the meat and mix well.

Serve with tortillas, with chips and lettuce as taco salad, or with black beans as burrito bowls.