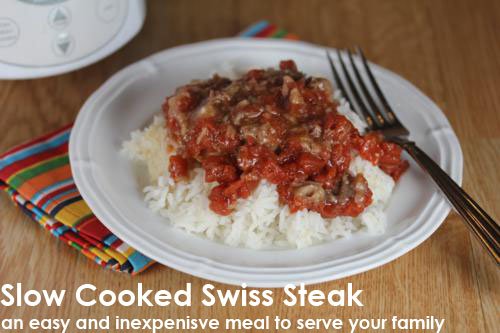 Swiss steak is a classic comfort food type recipe. It is one of those recipe though that is often forgotten about in today's modern and more gourmet type recipes.
I grew up eating swiss steak often. It was inexpensive to make and we all enjoyed it, so my mom made it quite a bit.
My mom always kept her swiss steak pretty simple and so do I. A lot of people add things like carrots and celery to theirs, but I like to keep it basic. Feel free to add whatever you like to this basic recipe.
Slow cooked swiss steak is great because it cooks low and slow all day which helps tenderize the meat and gives it a lot of flavor.
Now I am curious, how many of you grew up eating swiss steak like I did? And do any of you cook it now? 
Slow Cooked Swiss Steak
1/4 cup flour or gluten free flour blend
1/2 teaspoon salt
1/4 teaspoon pepper
1 1/2 pounds round steak, cut into chunks or strips
1 onion, chopped
1- 14 ounce can diced tomatoes
2 tablespoons Worcestershire sauce
In a shallow dish combine flour, salt, and pepper.
Dredge steak in flour mixture until coated on both sides.
Place in slow cooker along with the onions.
Add diced tomatoes and cook on low for 7-8 hours or until tender.
 Serve over rice or noodles.