A big bowl of Slow Cooker Chicken Taco Soup is the perfect lunch or dinner!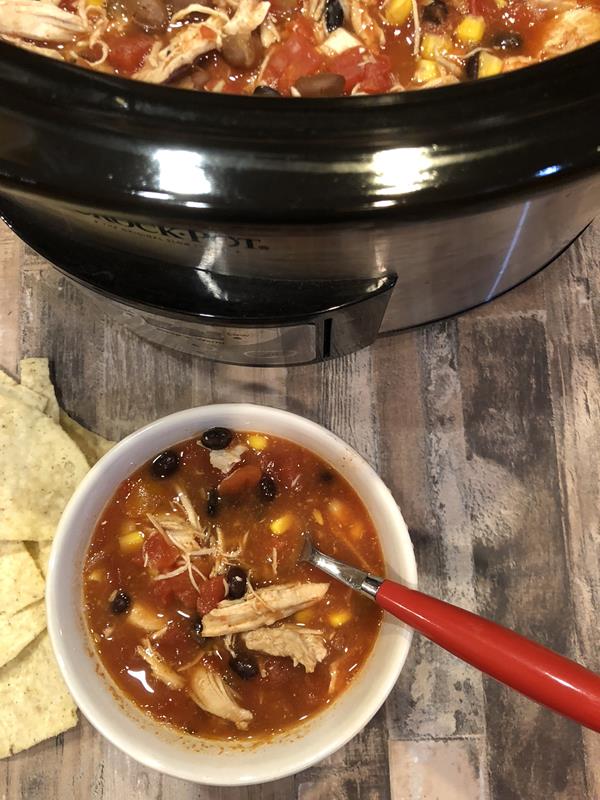 Does your family love soup as much as my family does? We love soup this time of year.
When it comes to soup I want quick and easy recipes. Actually I need quick and easy recipes. I love to cook, but like you I don't always have a lot of time to spend hours in the kitchen.
This time of year I love crock pot recipes where I can quickly make a crock pot meal by putting a few basic ingredients in the crock pot, set it to cook, and have dinner waiting for me at the end of the day.
We all need more recipes like that don't we? Easy recipes with basic ingredients are always great to have.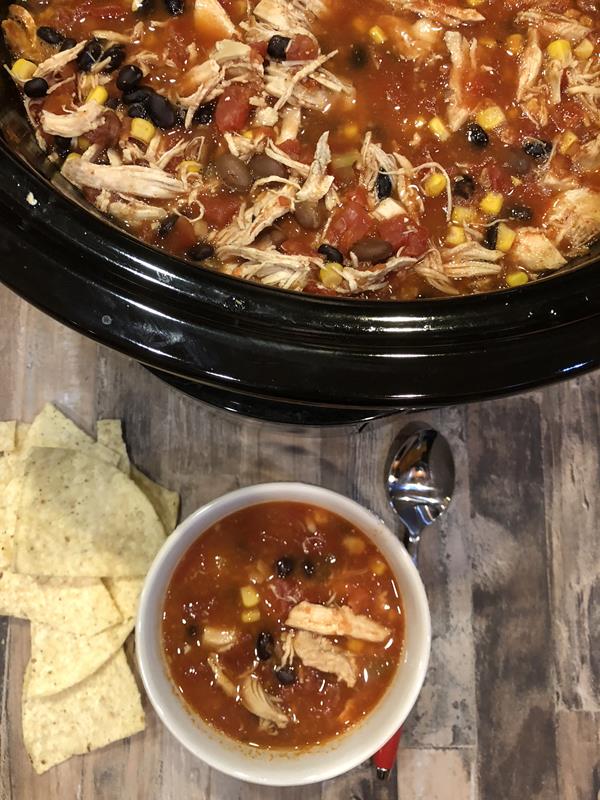 A lot of taco soups call for ground beef, but I like to change it up and occasionally use chicken for a chicken taco soup. Chicken taco soup is similar to chicken tortilla soup, but without the tortillas.
Slow Cooker Chicken taco soup is a great way to use up some cooked chicken you might have leftover or leftover rotisserie chicken.
Cooked shredded chicken is something that I almost always have in the freezer for easy meals and this soup is a great way to use that as well.
I love that this soup contains ingredients that you all most always have on hand. It calls for canned beans, canned tomatoes, corn, taco seasoning, and a few other basic things.
This is pretty much a dump a bunch of cans in the slow cooker, add some chicken, and dinner will be waiting for you at the end of the day. Perfect dinner for a busy day.
Meals like this are also great when everyone is not eating dinner at the same time. Between sport practice, games, lessons, meeting, and church events, all sitting down to dinner at the same time can be a challenge.
Dinners like this allow you to avoid the drive thru and serve you family a healthy meal that works for everyone's schedule. People can just serve themselves when they need to eat or when they get home.
This recipe would also be great for serving a crowd. You could make this chicken taco soup and a pot or two of a different soup and you would have an easy meal for a large group.
Need a new Crock Pot? My Favorite Crock Pots are:
Like easy soup recipes? You might enjoy these:
Slow Cooker Chicken Taco Soup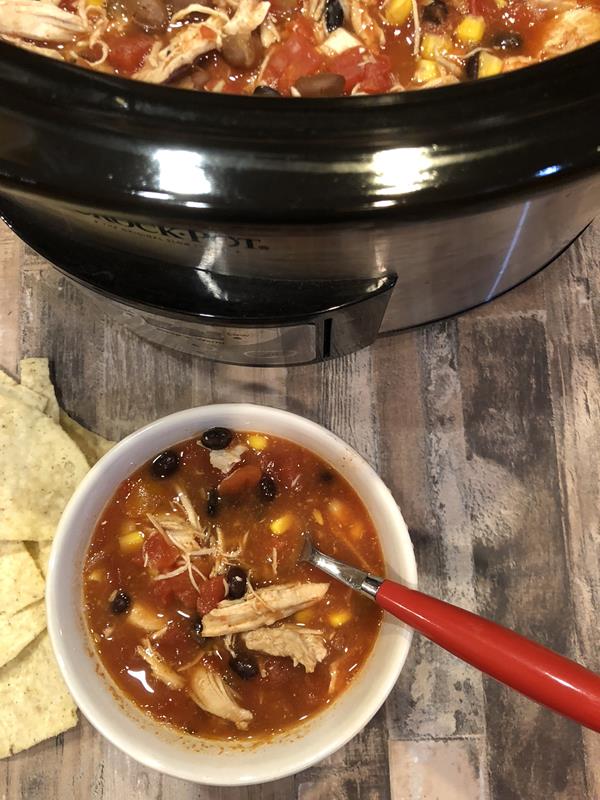 Easy one pot dinner using basic pantry ingredients.
Cook Time
4 hours
3 seconds
Total Time
4 hours
5 minutes
3 seconds
Ingredients
1 (15.5 ounce) can chili beans
1 (15 ounce) can black beans (rinsed and drained)
1 (15 ounce) can corn (drained)
1 (8 ounce) can tomato sauce
1 (14.5 ounce can) chicken broth
2 (10 ounce cans) diced tomatoes with green chilies
1 pkg taco seasoning
3-4 cups cooked shredded chicken
Instructions
Place all ingredients in a crock pot and stir to combine.
Cook on low for 3-4 hours.
Serve with cheese, sour cream, tortilla chips, or desired toppings.
Notes
If you are gluten free be sure to use gluten free taco seasoning, chili beans, and chicken broth. Most are gluten free, but not all are gluten free.