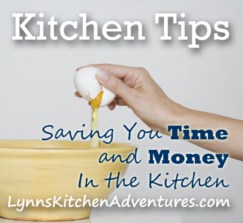 Last year I posted a video on how I cook dried beans in my crock pot, and I still love making them that way. It makes it so easy to cook up a large batch of beans and freeze them for use in soups and Mexican food.
I recently learned a new tip for soaking my beans though that I am loving. It is really helping the texture of my cooked beans.
I have always been one to soak my dried beans. I know many people say you can skip the soaking step, but in my experience I always have better results when I soak them. So, I continue to soak them, but this new method I found for soaking beans works way better than just soaking them in water.
I posted a few months ago about how much I love the Cook's Illustrated Slow Cooker Revolution Cookbook. It has become one of my favorite crock pot cookbooks. It is full or not only recipes, but tips for using your crock pot.
One of the tips in the book is for soaking beans in salt water before cooking them. A friend told me a few months ago that she had read the tip in the Slow Cooker Revolution Cookbook and tried it. She thought it worked great and wanted me to know about it.
I knew with the amount of beans we use that I needed to give this tip a try. Plus, if both Cook's Illustrated and my friend thought it worked, it must be worth trying.
So, I recently soaked my beans in salt water according to the directions in the Slow Cooker Revolution
instead of just plain water, and I agree, it works great.
I loved how the beans turned out. The salt really helps tenderize and soften the beans. ( I also think it helps aid in digestion if you know what I mean, although CI does not mention that. )
All you do is put 2 tablespoons of salt in about 4 quarts of water and stir well. Add 1 lb of beans and soak overnight. Drain the beans, and rinse salt water off. Cook as directed or according to the recipe you are using.
I am curious have any of you heard or tried this tip for soaking beans before?