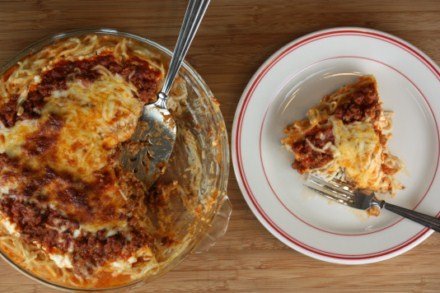 This is a recipe that I have been making for years, probably close to 17 years.
It is one of those kid friendly, inexpensive meals that freezes great and works well for taking to potluck dinners or to a friend in need.
I cannot count how many times I have made this over the years, but I know it is a lot. It is tried and true family favorite in our house and is perfect for Ground Beef Thursdays.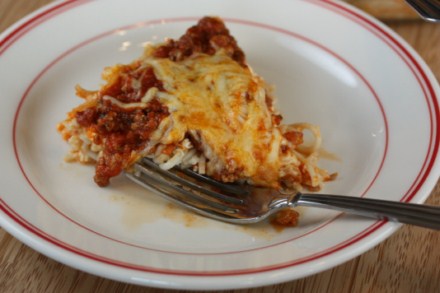 Spaghetti Pie
Makes 2 "pies"
Crust:
1 pound of spaghetti noodles, cooked ( Use gf pasta if gluten free)
4 tablespoons of butter
2/3 cup grated Parmesan cheese
4 eggs
Filling :
2 cups cottage cheese
1 pound of ground beef
1 jar (about 22- 26 ounces) spaghetti sauce
1 1/2 cups shredded mozzarella cheese
In a large bowl combine cooked noodles, butter, Parmesan cheese, and eggs. Spread into and up the sides of 2- 9 inch pie plates and set aside.
In a pan brown ground beef until done. Drain off any fat and add spaghetti sauce to the meat. Mix well and set aside.
Spread cottage cheese over the noodle crusts. And then spread meat mixture over the crust dividing evenly between the two pans.
Spread mozzarella cheese on top.
Bake at 350 for 25 minutes or until set and cheese is melted.
Let sit for about 10 minutes before cutting and serving. This helps it set up and will make it easier to serve.
Enjoy!
Note: Although this recipe freezes really well, I do not like the way it freezes with gluten free pasta. The texture of gluten free pasta changed quite a bit when frozen.