Fried rice is a delicious way to turn leftovers into something special and steak fried rice is one of my favorite versions of fried rice.
It is a way to use those last few things from the fridge, without your family feeling like they are eating the same thing over and over again.
The other great thing about fried rice is that it is a good way to make meat stretch to feed more than it normally would. Steak fried rice is a perfect example of that.
My husband loves steak and would eat it often, like everyday, if he could. However steak can be expensive to feed a family, so when we have steak, I like to cook one or two extra to use later in the week.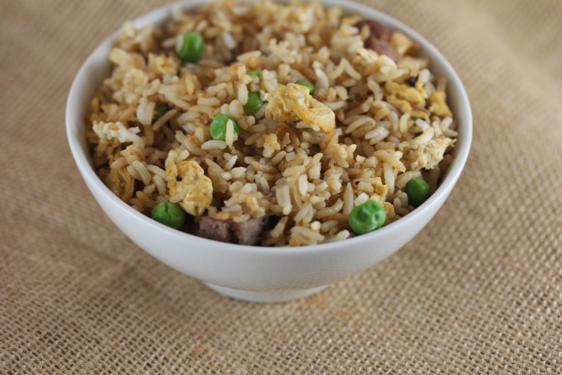 Not only does this save cooking time later in the week, but it stretches one extra steak into a whole dinner.
I love serving it as a steak salad, especially during the summer. It makes for a light and delicious warm weather meal.
Steak fried rice is another easy way to use up an extra or leftover steak. And again it turns one steak into a meal for a whole family.
If you don't have steak, don't worry, this works with just about any leftover meat, not just steak. You can easily use leftover chicken or pork.
One of the other things I like to do is when I am cooking rice I make extra. I often double or triple the amount of rice I need. That way I can use the leftovers in recipes like this fried rice. Cooked rice also freezes well so you can easily freeze leftover rice for taking out for other meals like fried rice.
Did you know that you can also freeze fried rice? I freeze it all the time. You can freeze it in a large container or zip top type bag, but I like to freeze it in small portions perfect for lunches during the week.
Having containers of fried rice in the freezer makes for an easy healthy lunch when I don't have other leftovers.
You can also add whatever vegetables you want to it. Use the basic idea and make it your own.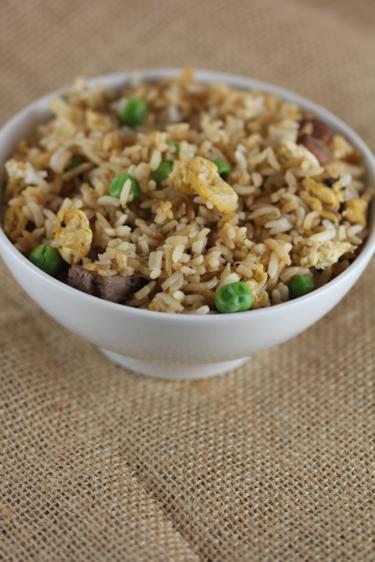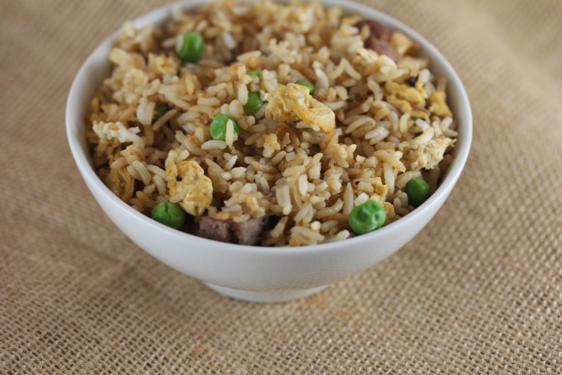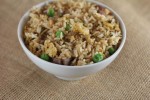 Steak Fried Rice Recipe
Easy dinner and a great way to use leftovers!
Ingredients
2

tablespoons

oil

2

eggs

4

tablespoons

soy sauce

(Use gluten free soy sauce if gf)

1

clove

garlic

minced

1

leftover steak

cut into strips, you want about 2 cups or so of meat ( or slice an uncooked steak thinly and cook in a small amount of oil before adding)

2

carrots

shredded (Not in the picture because I did not have any the day I made this and took a picture)

½

cup

frozen peas

2

cups

cooked rice

You want the rice cold, so use leftover rice or make it ahead and keep it in the fridge.

2

tablespoons

rice vinegar
Instructions
Mix together 2 tablespoons of soy sauce with the eggs and beat well.

Heat 1 tablespoon of oil in a large skillet or wok.

Add egg to pan. Swirl and scrape egg to cook, basically you are scrambling this, but do not over cook it. You want this to error on the side of not done because you will be adding this back to the pan later on.

Remove egg from pan and set aside.

Add garlic, carrots, peas, and rice to the pan and cook for 3-4 minutes or until vegetables are tender and rice is starting to brown.

Add the egg back to the pan along with the remaining soy sauce and the rice vinegar and steak. Let cook for 2-3 minutes more.

Add more soy sauce to taste.

Serve and enjoy!