If you love those famous packages of oatmeal you will love Strawberries and Cream Baked Oatmeal!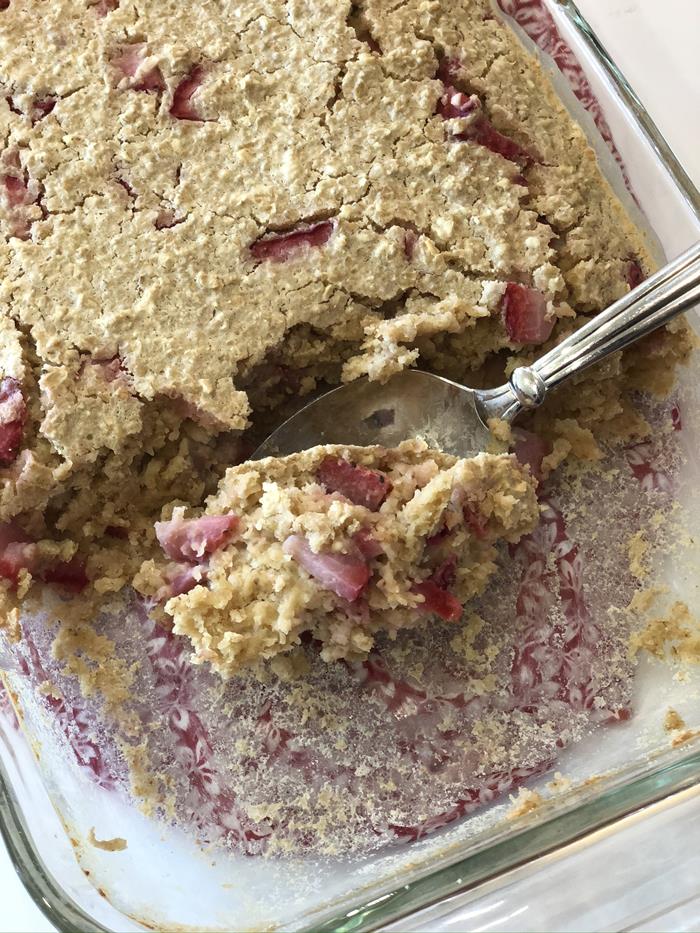 Strawberries and Cream Baked Oatmeal is like a gourmet grown up version of those little packets of strawberry and cream oatmeal.
Yes, I know that sounds odd, but it really is the best way to describe this recipe.
But this baked oatmeal is not just for grown ups, it is for kids of all ages. This is a baked oatmeal recipe that everyone will enjoy.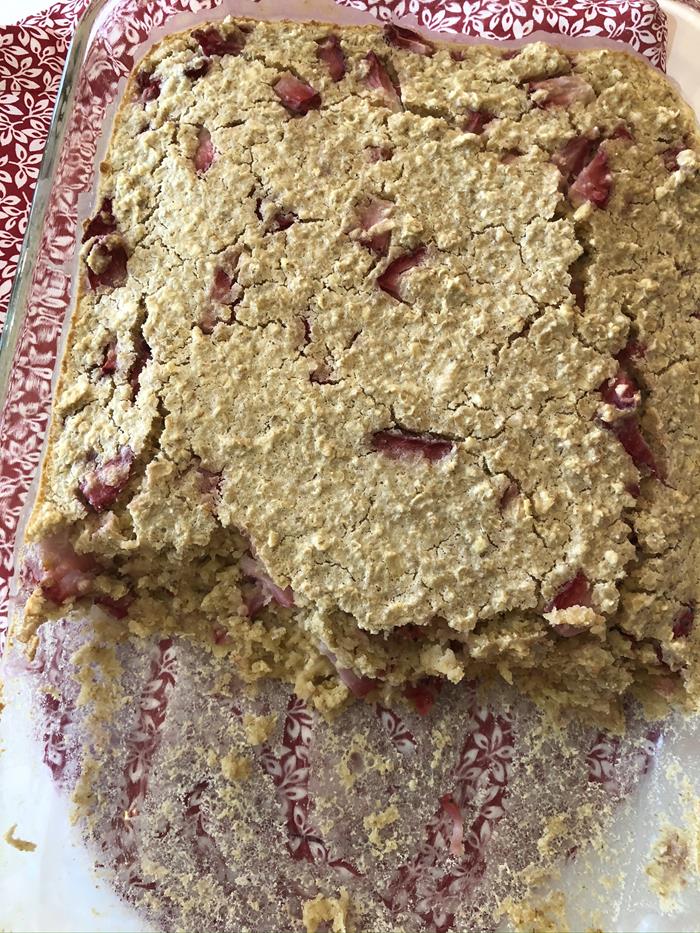 I came up with this recipe years ago when I had a bowl of overripe strawberries staring at me when I opened the fridge. I did not want to throw them out, but I was not sure of how I wanted to use them either.
Baked oatmeal is a favorite in our house, so I instantly thought a new version of baked oatmeal would be perfect.
What is baked oatmeal?
Baked oatmeal is a delicious breakfast that is a cross between a bowl of oatmeal and an oatmeal cake.
It is not mushy like a bowl of oatmeal. It is drier and cake like. My baked oatmeal recipes have converted many oatmeal haters into oatmeal lovers.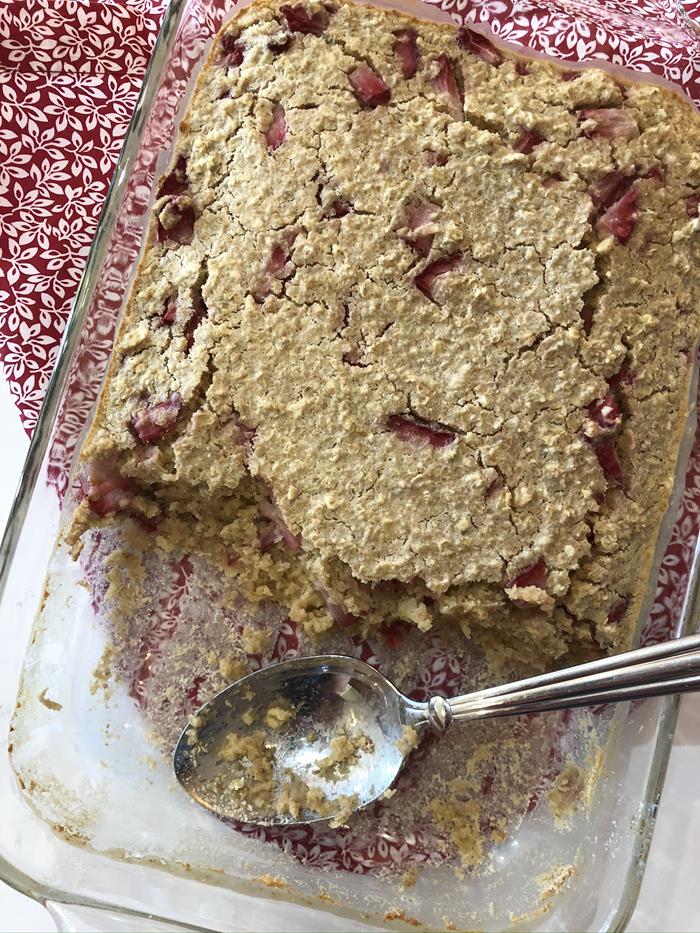 Can I make baked oatmeal ahead of time?
Yes, you can! Baked oatmeal reheats well. I almost always make two pans of baked oatmeal so that we can reheat it for several days for breakfast.
Can I freeze baked oatmeal?
Yes, baked oatmeal freezes well. I have shared all kinds of tips for freezing baked oatmeal. One of my favorite ways to freeze it is to make baked oatmeal muffins and then freeze the muffins.
If you have never tried baked oatmeal this is a must try for your family. This is a perfect way to eat oatmeal during the spring and summer berry season.
Yield: 8 servings
Strawberries and Cream Baked Oatmeal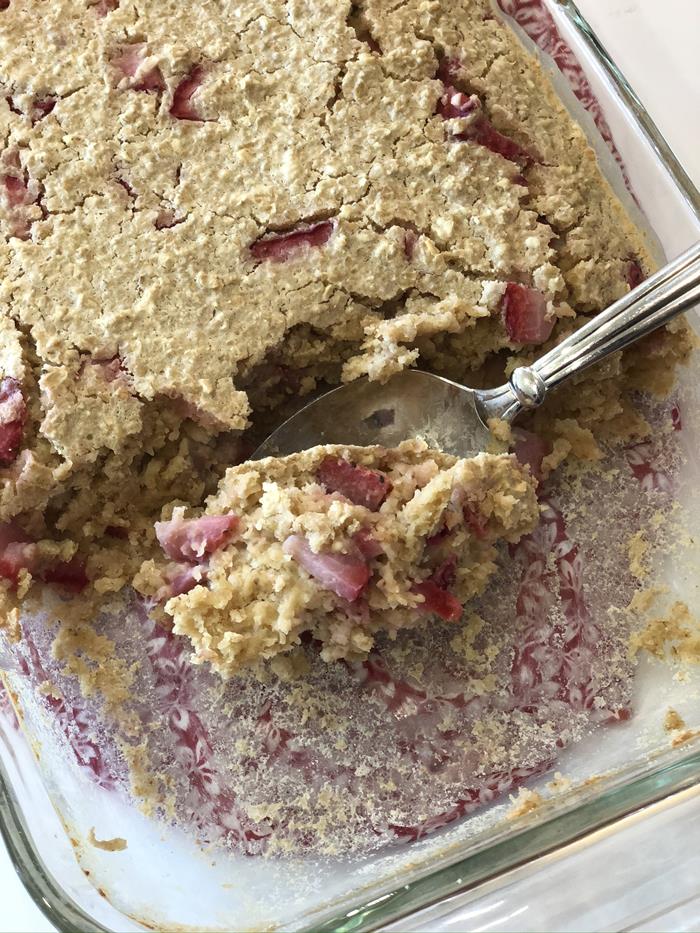 Strawberries and Cream Bakes Oatmeal is a delicious breakfast treat. It is all the flavors of those famous oatmeal packages in an easy to make homemade breakfast.
Ingredients
3 cups quick cooking oats- use gluten free quick cooking oats for a gluten free version
1/2 cup brown sugar
1 cup milk
2 tablespoons butter, melted
2 eggs
2 teaspoons baking powder
3/4 teaspoon salt
2 teaspoons vanilla
3/4 cup whipping cream ( half and half or additional milk will work)
2 cups chopped fresh strawberries
Instructions
Preheat oven to 350.
In a bowl mix together all ingredients, except strawberries and combine well.
Carefully stir in strawberries.
Spread into a greased 9×13 pan and bake for 20-25 minutes or until done. You want it set up, but not really dry.
Serve warm drizzled with additional milk or cream if desired.
Notes
Cream or half and half make this richer, but you can use all milk.
Other fruit like raspberries, blueberries, peaches, etc work in place of the strawberries.
Nutrition Information:
Yield:
8
Serving Size:
1
Amount Per Serving:
Calories:

330
Total Fat:

15g
Saturated Fat:

8g
Trans Fat:

0g
Unsaturated Fat:

6g
Cholesterol:

82mg
Sodium:

389mg
Carbohydrates:

41g
Fiber:

4g
Sugar:

14g
Protein:

8g
Originally published May 2013. Republished April 2020.