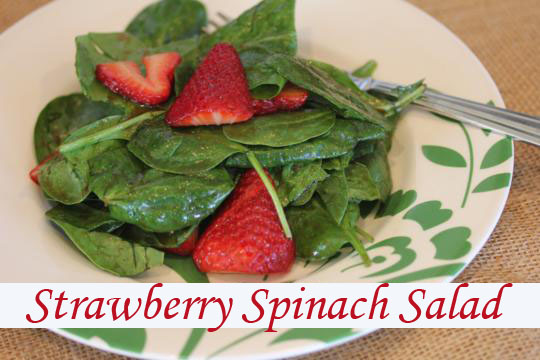 Strawberry Spinach Salad. Delicious! Really there is not much else to say about this salad.
I am not normally a fan of fruit with my greens or with my meat. In general I prefer my fruit by itself or in a dessert, however I love this salad.
The sweet strawberries with the fresh spinach and the tangy dressing just go together. It is the perfect salad for spring and summer when strawberries are in season.
When I visited my sister over the the weekend she served a strawberry salad like this with maple glazed pecans and it was really good. I love the crunch the pecans added to the salad. I don't serve mine with pecans because of my daughter's nut allergy, but if you can have pecans, I would add the glazed pecans it will make it even better.
Strawberry Spinach Salad
1/4 cup sugar

1/4 cup oil

2 tablespoons balsamic vinegar

1/4 teaspoon Worcestershire sauce

1/4 teaspoon onion powder

1/4 teaspoon salt or to taste

10 ounces fresh spinach, rinsed and dried well

1 quart strawberries, sliced
In a bowl whisk together sugar, oil, balsamic vinegar, Worcestershire sauce, onion powder, and salt. Place in refrigerator for several hours. This helps the sugar dissolve and the flavors to blend. 

For serving combine the spinach, strawberries, and dressing in a large bowl. Toss to coat well. I like to start with part of the dressing and toss and add more as needed. 

You can also serve the spinach, strawberries, and dressing separate and let everyone serve their own amounts of each.