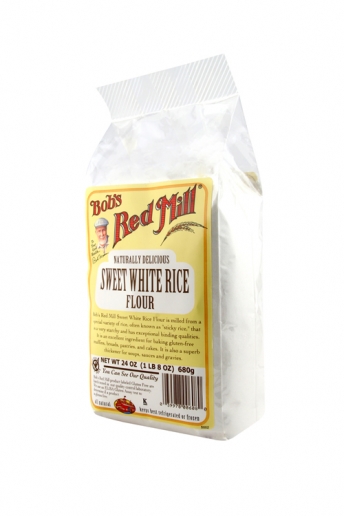 One of the ingredients that I found confusing when I first started baking gluten free was sweet rice flour.
I kept seeing this flour in gluten free recipes, but I could not find it anywhere in the stores in my area. I looked at several stores that carried gluten free flours and I also looked at the two health food stores in my area. Not only did no one have it, no one seemed to know what it was.
I searched quite a bit online and found that one reason that sweet rice flour is hard to fine is because it has several names. It is not only known as sweet rice flour, but also glutinous flour or sticky rice flour.
After learning this fact I went looking again for sweet rice flour under its other names. My area is somewhat limited in what it offers for gluten free options, so I was still unable to find it.
After doing some more online research though I discovered that it is used in many Asian dishes. We have a large Asian market in our area, so I decided to look for it there. Thankfully I found some at the Asian market under the name of glutinous flour and it was a good price.
I have really enjoyed learning to use this flour. I have found that in some baked goods it really helps give it a better texture and taste.
Have you had trouble finding sweet rice flour? What name have you found it under?