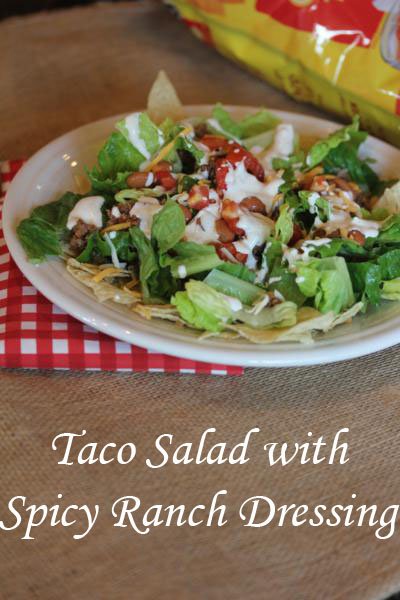 Earlier this week I shared a barbecue ranch chicken salad that we have been enjoying this summer. It is delicious and really you need to try it.
We eat a lot of salad during the summer. They are a quick and easy to make and do not heat up the house to fix. Taco salad is among the salads that we eat often, but we were getting tired of the basic taco salad so I knew I needed to find a way to change it up a little.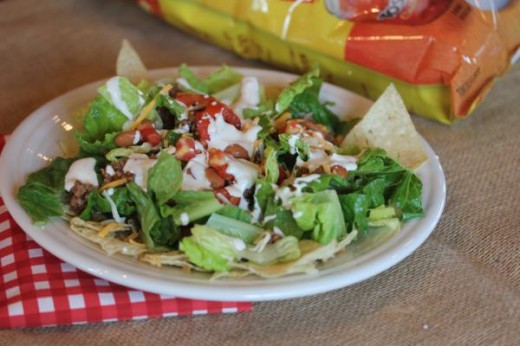 My family loves ranch, so I decided to make a homemade ranch dressing, but give it a spicy Mexican twist. And we loved it. It was perfect for changing up taco salad at our house.
Really you can use whatever toppings you like on taco salad here, it is the spicy ranch dressing that makes this so good. Most of my family prefers to put their own salad dressing on, but you could also easily toss this all together for serving.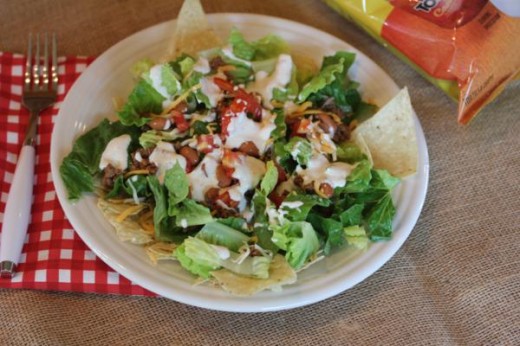 Taco Salad with Spicy Ranch Dressing
1 pound ground beef

taco seasoning- I use homemade taco seasoning

1 can beans, rinsed and drained, black or pinto

lettuce

chips

sour cream

shredded cheese

tortilla chips
Dressing:
1 clove garlic, minced

1/4 teaspoon salt

1/2 cup 

mayonnaise

1/2 cup sour cream

1 teaspoon 

Worcestershire

 sauce

1/2 teaspoon pepper

1 teaspoon white wine vinegar

1/4 teaspoon paprika

1/4 teaspoon cumin

1/4 teaspoon ground red pepper

2-3 dashes hot sauce or to taste

1/2 cup buttermilk
Combine dressing ingredients in a small bowl or container and mix until well combined. Set aside. This has better flavor if made a few hours ahead and 

refrigerated

. 

Brown ground beef and season with taco meat according to directions.

Serve seasoned meat with lettuce, beans, cheese, etc. and serve with dressing on top.