I have mentioned many times how much I love cookbooks. I have quite a collection of cookbooks, and I use them all the time.
Today I want to share with you not just one cookbook that I love, but several cookbooks that are in my collection.
I have mentioned before how much I love Taste of Home. They helped give me a love of cooking. They made cooking easy and fun for me. I would not be the cook I am today without Taste of Home.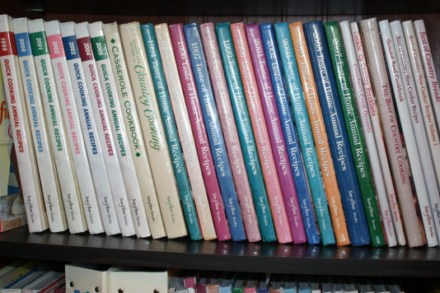 So, here is where I admit that I have a few,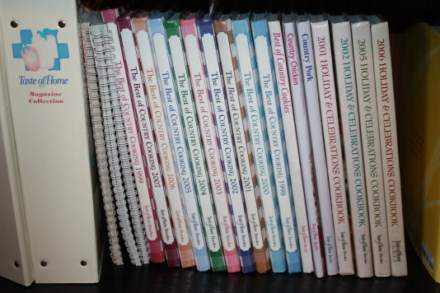 okay, a lot, of Taste Of Home cookbooks.
I have received the magazine almost every year since 1994. The trouble was that I used and used and wore out many of those magazines. So, I started collecting the Taste Of Home magazine annual cookbooks.
I also have quite a few of the annual Quick Cooking cookbooks, (now called Simple and Delicious). I also have most of the Best of Country cookbooks. These contain recipes from other Reiman publication magazines.
Besides the annual Cookbooks, I have a few holiday ones, The Best of Country Cookies, The Best of Country Breads, Grandma's Recipes, The Slow Cooker Cookbook, The Beef, Chicken, and Pork cookbooks, and I could go on and on.
Some of these I bought new, several where given to me as gifts, but most of them I have picked up at used book sales. I also bought a group of them on Ebay for a really good price. Some of them have even come from paperbackswap.
Many of these books were published and purchased over ten years ago, some fifteen years ago, and are no longer available, but Taste Of Home still sells many good cookbooks, and there is still the magazine that you can subscribe to.
Now, I would love to hear if you have any Taste Of Home cookbooks? If so what is your favorite Taste Of Home cookbook or recipe?