I have been making Martha Stewart's Chocolate Pudding Cake for years. It was the perfect combination of a fudgy chocolate pudding mixed with cake. I loved this recipe, and I have missed it since going gluten free.
I recently tried adapting this recipe to make it gluten free. I was not sure it would work quite right, so when it turned out, I was thrilled.
This is one of those recipes that works really well gluten free. I could not believe how close to the original this recipe turned out.
This will definitely be a family favorite in our house.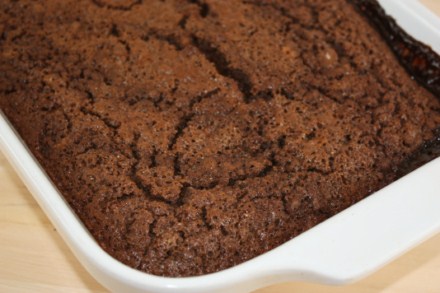 Gluten Free Chocolate Pudding Cake
1/4 cup + 2 tablespoons sorghum flour
1/4 cup + 2 tablespoons potato starch
1/4 cup tapioca flour
1 teaspoon xanthan gum
1/3 cup cocoa
1/2 teaspoon baking powder
1/4 teaspoon baking soda
3/4 teaspoon salt
2 eggs
1 cup sugar
3/4 cup milk
4 tablespoons butter, melted and cooled
2 teaspoons vanilla
1/3 cup cocoa
1 cup brown sugar
1 1/2 cups boiling water
Preheat oven to 350 degrees. Stir together the sorghum flour, potato starch, tapioca flour, xanthan gum, 1/3 cup cocoa, baking powder, baking soda, and salt. Set aside. In a medium bowl whisk together eggs, regular sugar, milk, butter, and vanilla. Add to flour mixture and stir until combined. Spread evenly into a greased, shallow, 8 cup baking dish. I use a 11×7 Pyrex. Set aside.
In a medium bowl whisk together remaining 1/3 cup cocoa, brown sugar, and boiling water. Carefully pour evenly over batter. Bake for 30-35 minutes.
It is a little hard to tell when this is done. You want the top of it to look cake like but the bottom of it will be like pudding. 30 minutes it what it takes in my oven. This is best when it is warm served with vanilla ice cream or whipped cream. But it is really good no matter what. The combination of cake and warm pudding is really good.
This post linked to
Gluten Free Wednesdays
.