Some of my favorite things to cook are copycat versions of our favorite restaurant foods and store bought items.
Over the years I have made Panera Broccoli Soup and Panera's Potato Soup. I have made homemade Orange Julius and homemade taco and enchilada sauce.
Some of my other favorite make at home recipes like cornbread are based on recipes I found in Todd Wilbur's Top Secret Recipe cookbooks.
I am not sure where I first heard about Todd Wilbur and his Top Secret Cookbooks, but I have owned several of his cookbooks for years.
The first book by Todd Wilbur that I bought was his Top Secret Recipes
book which I purchased over 10 years ago. Since then I have purchased three other of his cookbooks and I love them all.
I recently used some of my swagbucks to buy two of his latest books Top Secret Restaurant Recipes 3
and Top Secret Recipes Unlocked
. His two newest books did not disappoint me. I love them.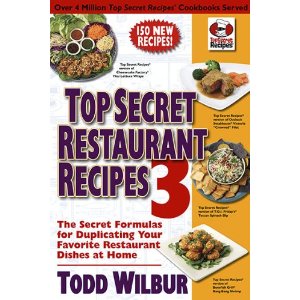 These books are full of copycat recipes from your favorite restaurants.
Top Secret Restaurant Recipes 3 includes recipes like Chili's Nacho Burger and their White Chocolate Molten Cake. There is a recipe for IHOP's Banana Nut Pancake, and one for TGI Friday's Tuscan Spinach Dip. Plus many other copycat recipes for restaurants like Olive Garden, Red Robin, On the Border, and many more.
Top Secret Recipes Unlocked contains several copycat recipes for Sonic Shakes and several Starbucks copycat drinks. It also has recipes for several PF Chang items, and even a few for Cracker Barrel and Denny's.
If you enjoy making at home versions of your favorite foods you will love these book. The Top Secret cookbooks would also make great gifts for the holidays.
Do any of you own Todd Wilbur's cookbooks?