Twice baked taco potatoes are an easy main dish recipe that your family is sure to love!
My favorite way to eat potatoes is twice baked. What is not to like about a twice baked potato? A potato baked with sour cream, cheese, and other good stuff mixed in. Who would not like that?
Today's recipe is for twice baked potatoes, but it is a slightly different version than a regular twice baked potato. I have turned this twice baked potato into a taco potato simply by adding taco meat to the filling.
My husband really enjoys these, because he thinks everything tastes better with a little meat added in. I like these because they are a meal all by themselves. I usually serve them with salad, but my kids would be happy eating just these for dinner.
These also work well made ahead. I make them up early in the day and then just put them in the oven for the final baking when I need them.
I hope you enjoy these as much as we do!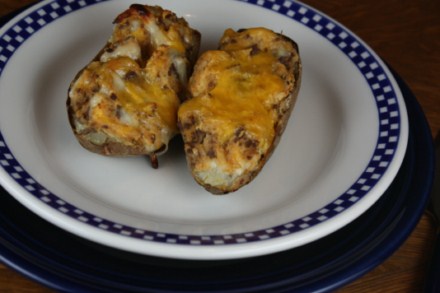 Twice Baked Taco Potatoes
4 potatoes
1/2 cup sour cream
2-4 tablespoons milk
1 1/4 cup grated cheddar cheese, or use colby jack (divided)
1/2 lb ground beef, cooked and seasoned with taco seasoning, if you are gluten free be sure that your taco seasoning is gluten free
Preheat oven to 375.
Scrub potatoes and pierce a few times with a fork or knife. Bake for 1 – 1 1/4 hours or until tender.
Let cool for about 10 minutes or until they are cool enough to handle.
Cut baked potatoes in half and remove potato from the skin. Be sure not to get to close to the skin or your potato skin will not be sturdy enough to hold the filling. (Any guesses how I know?)
Mash the potato filling with the sour cream and milk ( add more milk if needed).
Stir in 1 cup cheese and seasoned taco meat.
Spoon filling into potato skins and sprinkle with remaining cheese.
Return to oven and bake for 20-25 minutes.
Serve and enjoy!