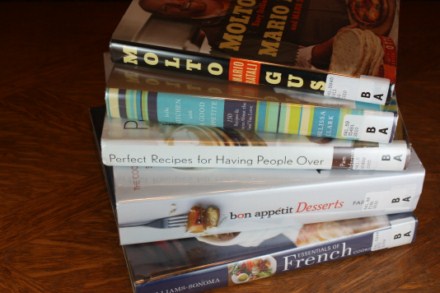 Cookbooks of course!
We love going to the library and one of my favorite things to get at the library is cookbooks. It is a fun and frugal way to find new recipes.
This week I found some very good cookbooks at the library and I spent part of yesterday going through them. I found so many good recipes.
If you follow me on Facebook then you know I was less than impressed with Mario Batali's newest book Molto Gusto
. I really wanted to like this book. It is a beautiful cookbook and the words Easy Italian Cooking on the cover really caught my attention. I am sure the recipes in this cookbook are really good, but where it lost me was on the ingredients. Octopus, squid, black truffles, and fregula (a type of pasta) are just not staples in my kitchen, and I think most of America is with me on that one. That said this is pretty typical of Mario Batali. I have found the majority of his recipes are not for the average home cook.
I also checked out the book In the Kitchen with A Good Appetite
. This book was interesting. Some of the recipes in the book are a little gourmet for my everyday cooking, but what makes this cookbook fun are the stories behind the recipes. Almost every recipe has a page or two of writing along with. This made the recipes come alive.
Pam Anderson's book Perfect Recipes for Having People Over
is actually an older cookbook, but it caught my attention. I have looked through several of Pam Anderson books in the past, and I actually own How to Cook Without a Book
and I always enjoy her recipes and ideas.
Bon Appetit Desserts,
where do I even begin with this recently published Bon Appetit cookbook. I love this book. I love to bake and I always enjoy finding new dessert recipes. This book was filled with all different kinds of desserts. This is a large cookbook and contains over 600 pages. Yes, many of the recipes in this book are a little more gourmet and complicated than many of the desserts that I usually make, but many of the recipes in this book are classic recipes that are easy to make and contain everyday ingredients. This is one of those cookbooks that is a classic. This cookbook will be just as good in 20 years as it is now. I loved this book so much that it is going on my wishlist of books to get soon.
The last booked I picked up was Williams-Sonoma Essentials of French Cooking
. I love to get William Sonoma books from the library. They are always fun to look through and the pictures are amazing. I always learn something when I look read through a Williams Sonoma cookbook and this book had a few recipes that I hope to try soon.
What good cookbooks have you found lately?