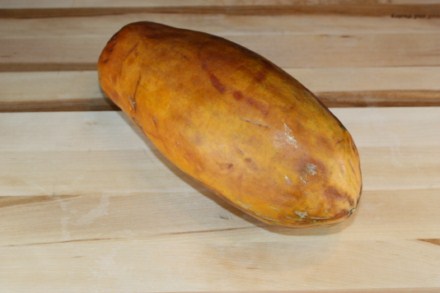 Several of you guessed papaya for my What Is It Wednesday last week and you were correct.
It was a Maradol Papaya to be exact, which is larger in size than many varieties of papaya, but one comment stated what it was exactly.
Dineen said, "A papaya past it's prime, certainly very ripe."
I could not have said it better Dineen.
Although, I did not mean to buy an over ripe papaya. I bought this at our local grocery store and they all looked like that, so I thought it was supposed to look like that. I have had papaya before, but I had never bought one myself. And now that I know what an over ripe one looks like, I will be more careful in the future.
I am not sure I can give a good review of this, because it was way over ripe and tasted really bad. I am guessing Maradol Papayas are not supposed to taste like this one did.
The smell, the taste, all of it was pretty bad. My husband even threw most of it out and he does not usually do that. He likes most things, or likes them enough to finish them off and not waste them, but he agreed this one belonged in the trash it was so bad.
I have not given up on papayas and I look forward to trying one again soon.
I would love to hear some papaya buying tips if you have any? What should a good papaya look like?
And I am curious if any of you have had Maradol Papaya?