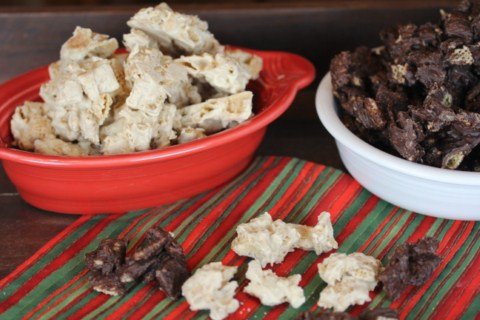 I love Chex Mix and have fun experimenting with all kinds of different versions. One of the reasons I love it is because it is one of those foods that is easy to make gluten free and everyone loves it.
Chex mixes are one of those things that no one thinks twice about being gluten free. Everyone eats it and enjoys it.
I recently came up with two fun new holiday Chex mix type recipes.
Today I am sharing White Chocolate Cinnamon Chex Mix here in my allergy section and am sharing Double Chocolate Chex Mix over in my main section. I made both of these this week and I could not stop eating them. I just kept going back for more. They were so good!
Both the double chocolate and the white chocolate cinnamon are really easy to make, because they both contain only two ingredients each, so you can put them together in no time.
These are one of those last minute, I need a quick snack or dessert to take to a holiday gathering, type of recipes.
And really these are perfect anytime of year.
White Chocolate Cinnamon Chex Mix
4 cups  Chex cinnamon cereal
2 cups white chocolate chips or chopped white chocolate
In a large microwave safe bowl melt white chocolate chips by cooking for 30 seconds, stir, cook 30 seconds more, stir, etc until melted.
Stir in cinnamon Chex cereal until well coated. Do this gently so that they cereal does not crush.
Spread out on a cookie sheet. I like to line mine with my silpat mat to make clean up easy.
Refrigerate for 2 hours or until hardened.
Serve and enjoy!