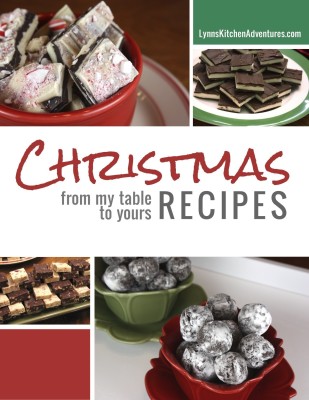 This ebook is no longer free, but is available for sale through the link below.
I have been working hard behind the scenes on some new features and projects for Lynn's Kitchen Adventures. I have some exciting things planned for 2013.
One of the things I have planned is several more ebooks. And after getting a lot of requests from you all, I am working on getting all by ebooks on Kindle.
I am excited to let you know that my Christmas Recipes ebook
is now available on Kindle edition. And not only is it available on Kindle, it is FREE for today and tomorrow!
Yes, Christmas Recipes from My Table To Yours
is free on Kindle, for November 29th and 30th!
Can you tell I am a little excited?
This books contains my favorite recipes for holiday baking and candy making. And they are all quick and easy and make great holiday food gifts.
If you want a copy of Christmas Recipes
be sure to get it now while it is free on Kindle. And if you would like more details please check out my Christmas Recipes page.
I don't ask this often, but I would love your help promoting this free offer. If you could share this with others by sharing the link/offer on Facebook, Pinterest, Twitter, etc. I would really appreciate it. This is the third year I have offered this ebook free to my readers, and I would love to share it with as many as possible. Thank you!
Happy holiday baking and candy making!
And if you don't have a Kindle you can still get this. Here is the information on Kindle apps
so that you can use this on other devices and computers.