My sister Evie recently called to tell me that she had a recipe for scones that she loved. She asked if I would like her to share it with my readers. Evie is a great cook and she does not blog, so I was thrilled that she wanted to share another one of her favorite recipes. Thank you Evie!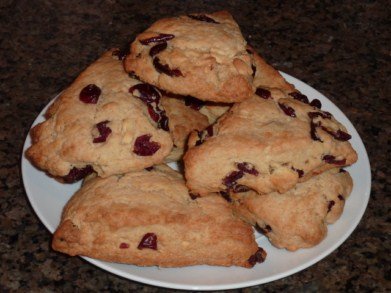 I usually have some cake and brownie mixes in the cupboard for those times when I need a quick dessert, but for the most part I try to make baked goods from scratch. The only thing I've ever given up making from scratch was scones.
My husband absolutely loves scones, particularly a boxed version he found before we were married. I thought it would be easy to find a recipe that he liked just as well. Oh, how wrong I was.
I struggled through numerous recipes to find a homemade version that he liked as well as the 'add water and stir' box mix. After making lots of 'okay' scones, I gave up and returned to buying the box mix again.
I figured why bother making a from scratch version when he was completely happy with the boxed kind? Then I read the box mix ingredient list a little more carefully. After some more procrastination, I finally decided I needed to find a recipe that was slightly healthier than the boxed variety.
Although these are not low fat, with both sour cream and butter in them, they don't have any preservatives or unpronounceable ingredients in them.
I searched the internet, found a few more recipes, and read dozens of tips for scone making. I experimented a little and finally came up with a version that we really enjoy. I've found two things that help keep the scones moist: work the dough as little as possible and cook them until they are just barely done.
I like the scones with some chocolate or dried cranberries mixed in, my husband prefers them plain. Either way, I hope you enjoy this recipe!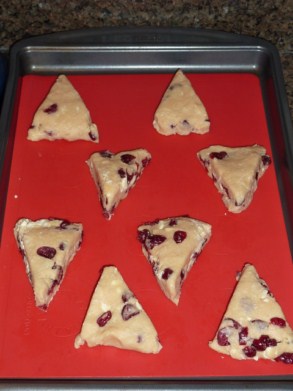 Yield: 16 scones
White Chocolate Cranberry Scones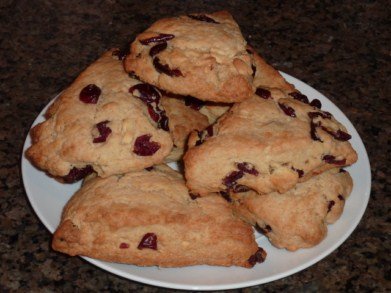 Homemade scones with white chocolate and cranberries.
Ingredients
1 cup sour cream
• 1 teaspoon baking soda
• 4 cups flour
• 1 cup white sugar
• 2 teaspoons baking powder
• 1/2 teaspoon cream of tartar
• 1 teaspoon salt
• 1 cup butter, at room temperature
• 1 egg, beaten
• 1 teaspoon vanilla
Add-Ins
• 1 1/2 cups miniature chocolate chips
• 1 cup chopped white chocolate chips and 1 cup dried cranberries
Instructions
Preheat oven to 350 degrees and lightly grease a large baking sheet (or line with baking mats or parchment paper).
In a medium bowl, blend together sour cream and baking soda. Set aside.
In a large bowl, mix the flour, sugar, baking powder, cream of tartar, and salt. Set aside.
To the sour cream mixture, add butter, eggs, and vanilla. Stir until smooth and butter is worked into the liquid.
Stir the sour cream mixture into the flour mixture until just moistened. The dough will be slightly crumbly, but don't over mix it!
Turn dough out onto a lightly floured surface. Add chips and/or dried cranberries, if desired.
Knead slightly, just until dough comes together. Again, be careful not to overwork the dough.
Divide dough in half and pat into two rounds.
Cut each into 8 wedges, and place two inches apart on baking sheet.
Bake 12 to 15 minutes, or until just barely turning golden brown on the top.
If you are looking to make smaller scones, simply divide the dough into 4 rounds and cut each round into 8 wedges, for 32 smaller scones. Bake for 8-10 minutes.
Nutrition Information:
Yield:
16
Serving Size:
1
Amount Per Serving:
Calories:

464
Total Fat:

23g
Saturated Fat:

14g
Trans Fat:

1g
Unsaturated Fat:

7g
Cholesterol:

53mg
Sodium:

385mg
Carbohydrates:

62g
Fiber:

2g
Sugar:

35g
Protein:

5g
Nutritional values are approximate and aren't always accurate.