GIVEAWAY OVER
The winner is Melissa- [email protected]
I sent you an email.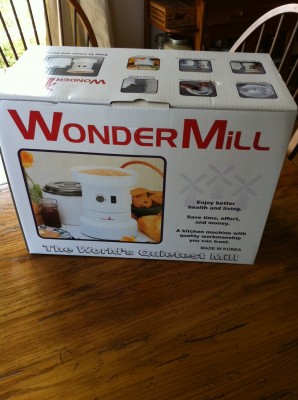 I am so excited about this review and giveaway.
Before going gluten free I loved baking and made all kinds of things. I even ground my own flour and loved the benefits of fresh ground whole wheat, but then gluten free eating entered my life. Grinding my own flour was no longer an option and my flour mill was set aside and eventually given away to a friend of mine.
Recently though I was contacted by WonderMill about reviewing their mill for grinding gluten free flours. I can not tell you how excited I was for a chance to grind my own gluten free flours.
I started with grinding my own rice flours and tried them in three gluten free recipes that I have made many times. I made my chocolate chip cookies, my pizza crust, and in our new favorite pancake and the rice flours I ground myself worked perfectly. I could not tell a difference at all.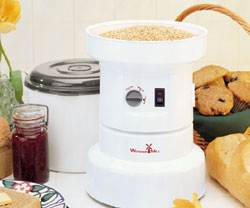 You can read my full review of the WonderMill and gluten free flours in my allergy section. And whether or not you are gluten free I really encourage you to read my review. I am impressed with the WonderMill and how it works.
The WonderMill is great for grinding all kinds of things not just gluten free flours. You can use this for wheat, corn, and various other things. This mill would be great for anyone wanting to give grinding their own flours a try.
And the good news is that the great people at WonderMill not only sent me a mill to try, they are giving away a mill to one of my readers!
Yes, one of you will win a WonderMill!
To Enter:
All you have to do is leave me a comment. You can leave any comment, but I would love to hear why you would like to give grinding your own flours a try.
Giveaway will end Wednesday, September 7th, at 6:00 PM
One entry per person please.
If you are reading this in email you have to click here and comment on this giveaway post. Replying to this email does not count as an entry.
For my giveaway rules please see my giveaway policy.
Disclaimer: I was given a free WonderMill to review, but my thoughts and opinions are my own.