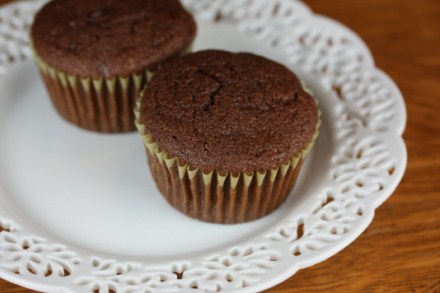 We love muffins in our house and usually have them several times a week.
When I make muffins I almost always make a large batch and put some in the freezer for those busy times when I don't have time to bake. They make a great addition to almost any meal, but they also make great snacks and desserts.
This double chocolate muffin today is definitely  more like a dessert. And although my kids have been known to eat these for breakfast, they really are more of a treat type muffin.
I hope you enjoy!
Double Chocolate Gluten Free Muffins
1 ¼ cup rice flour
¾ cup sweet rice flour
¼ cup cornstarch
2 cups sugar
¾ cup cocoa
1 ½ teaspoon baking powder
¼ teaspoon baking soda
½ teaspoon salt
1 ¾ cup buttermilk
1 cup oil
3 eggs
1 teaspoon vanilla
1 ½ cups chocolate chips
Preheat oven to 350 degrees.
Line a muffin tin with paper liners. This makes 24 muffins.
In a bowl combine rice flours, cornstarch, sugar, cocoa, baking powder, baking soda, and salt.
Beat in buttermilk, oil, eggs, and vanilla just until combined.
Stir in chocolate chips.
Bake for 17-18 minutes or until done.