I love baking. It has always been one of my favorite things to do. Before going gluten free you could often find me in the kitchen making bread, cookies, muffins, and more.
I even ground my own flour and loved the benefits of fresh ground whole wheat, but then gluten free eating entered my life. Grinding my own flour was no longer an option and my flour mill was set aside and eventually given away to a friend.
Recently though I was contacted by WonderMill about reviewing their mill for grinding gluten free flours. I can not tell you how excited I was for a chance to grind my own gluten free flours.
Once my WonderMill arrived I could not wait to give it a try. I decided to start with rice flours since rice is readily available and is easy to grind. I picked up some long grain white rice, some brown rice, and also some sweet rice from our local Asian Market.
Now although I was excited to grind my own gluten free flours, I was a little nervous about how fine the WonderMill would get the flours. Rice flours tend to be a bit gritty and my family does not like that grittiness, so I will admit I was a bit skeptical, but willing to give it a try.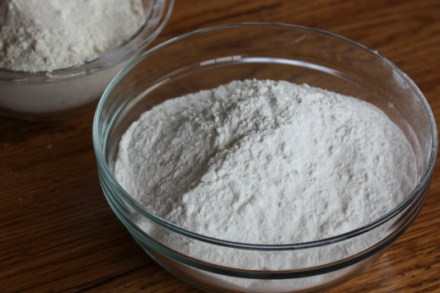 The WonderMill is really easy to use. It does take up more space than the mill I had before going gluten free, but the WonderMill is much cleaner to use. There was no fine layer of flour dust all over my kitchen like I had experienced with my other mill.
In the past I hated the dusty clean up and was quite impressed that I did not have that problem with the WonderMill. Now, part of this may be wheat versus rice, but I am guessing it has more to do with the design of the mill.
After I had ground my rice flours, I was still a little worried about the coarseness of the flours. They did not seem as fine as some of the gluten free rice flours that I have bought, but I knew I would not know for sure until I gave them a try in baking.
I tried the flours in three gluten free recipes that I have made many times. I made my chocolate chip cookies, my pizza crust, and in our new favorite pancake and the rice flours I ground myself worked perfectly. I could not tell a difference at all. There was no gritty texture and everything turned out perfectly.
I am really looking forward to using this some more and trying other things like corn and sorghum. I am also very excited that I can now grind some of the flours that are harder for me to find or quite expensive to buy where I live.
I have been buying my sweet rice flour online, but now I can purchase the sweet rice at our local Asain store and grind it myself. This will be much cheaper in the long run.
I think a mill like this would be a really great option for those living in areas where many of the gluten free flours are hard to find. Now, you can not do everything in the WonderMill, but you can do many gluten free flours in it. There is a complete list of what you can grind in the WonderMill on the Will It Grind site.
My one complaint with the WonderMill is that it is loud, but any mill that I have seen is loud. This one is no different. I do not see this as a problem, I just wanted to let you know that it is very loud.
Stay tuned on my main site later today and I will have information on how you can enter to win a WonderMill.
Disclaimer: I was sent a free WonderMill to review, but my thoughts and opinions are my own. I really do like this mill and I look forward to using it.