I have collected a lot of recipes from magazines and the internet over the years. It took me awhile to figure out how to organize them. I finally have found that this system works the best for me.
I have a 3 ring binder for each magazine or website. I usually can remember where a recipe came from. I know I like Martha Stewart's biscuit. I know I like a recipe from Southern Living for brownies. This way I can just go to the notebook and find it. I use the plastic sleeves that you get in the office supply store or office section of the store. I place the magazine pages in them and then put them in the binders.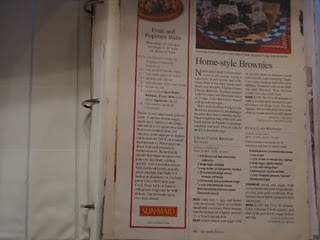 I also have one for the recipes I have printed off of allrecipes.com. For that one I use dividers for the categories. I have a section for side dishes, main dishes, soups, and desserts.
Organizing my recipes like this has helped me so much. It is what works for me.