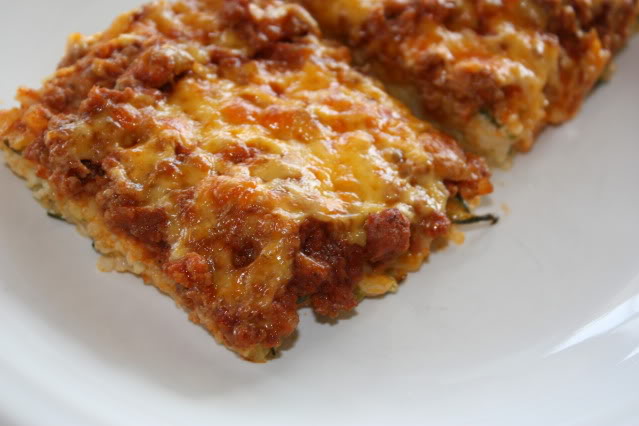 This time of year I am always looking for new zucchini recipes. My family gets tired of seeing zucchini over and over. My friend told me about an old Taste of Home recipe that was in a cookbook we both have. I thought it sounded like a fun, easy, and frugal dinner idea.
But, the first time I made this "pizza" my family did not know what to think. The recipe calls it pizza, but it is not really like a real pizza. This is how the conversation with my son went the first time we had this.
While I was making dinner my son asked, "What is for dinner, mom?"
I said, "Zucchini Pizza"
He said, "Ok" and ran off.
Then at dinner he looked at it and said, "Mom, you said we were having pizza!"
I said, "We are, zucchini pizza."
He said, "But you said we were having PIZZA."
I said, "This is called zucchini pizza."
Then throughout the meal he kept saying, "But if this is pizza, where is the crust?"
He finished eating dinner and said, "Mom, this is good, but it is not pizza!"
So, this dinner is really good, but if you serve it to your family you might want to rename it. Otherwise you might be having a similar conversation.

Zucchini Pizza
4 cups shredded peeled zucchini, drained and squeezed dry
2 cups cooked rice
1-1/2 cups (6 ounces) shredded mozzarella cheese
1 cup grated Parmesan cheese
2 eggs
1 pound ground beef
1 medium onion, chopped
1-1/2 cups prepared spaghetti sauce
1 teaspoon dried oregano
1/2 teaspoon salt
2 cups shredded cheddar cheese
In a bowl, combine zucchini, rice, mozzarella cheese, Parmesan cheese and eggs until well blended. Press mixture into a greased 15-in. x 11-in. x 1-in. baking pan. Bake at 400° for 20-25 minutes or until the crust is set and lightly browned. Meanwhile, brown ground beef and onion; drain. Stir in spaghetti sauce, oregano and salt. Mix well. Spoon beef mixture over zucchini crust. Sprinkle with cheddar cheese. Bake at 400° for 15 minutes. Let stand 5 minutes before serving.