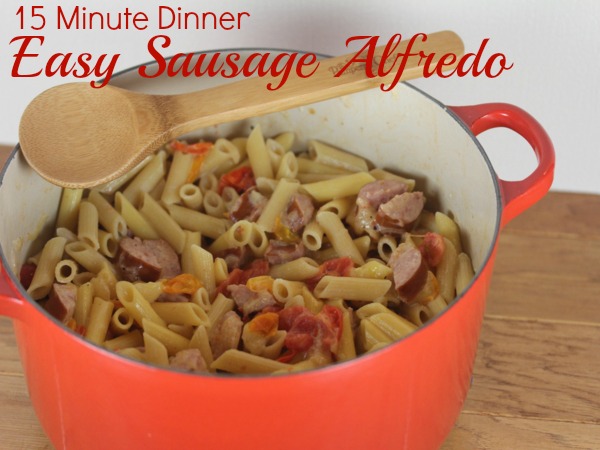 Over the last few months I kept seeing a simple recipe for Sausage Alfredo by Hillshire Farms. I saw it over and over again in ads in the magazines we get at my husband's office. The ingredients were so simple and it was a very quick and easy meal.
I kept thinking that I needed to try it. A few weeks ago, when I forgot to take the meat out of the freezer for the meal I had originally planned, I knew it was the perfect night to try it.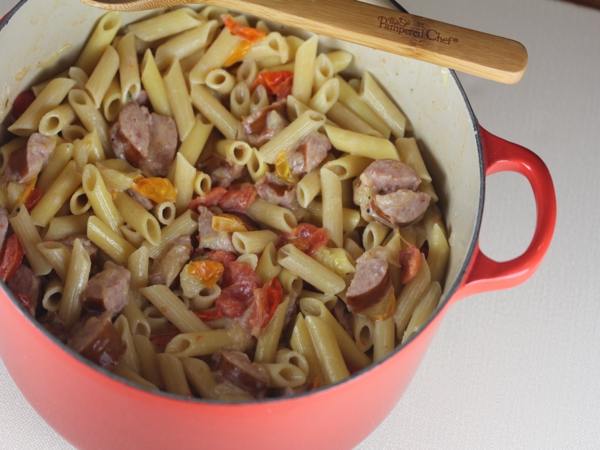 Of course I tweaked the recipe a little bit though. The original recipe called for all cream, and although I love cream, I thought I could cut down on it a little and use part milk. I also did not have quite the full amount of cream the recipe called for, so using milk seemed like a good solution. Cutting back on the cream worked fine.
The recipe suggested tomatoes as a stir in and I also thought tomatoes would be delicious added to the recipe. I knew it would make it more of a one dish meal that way. And again it worked great and we loved it. I let the tomatoes cook for a little bit, which made the dish not so pretty, but it was delicious. If you prefer you can just stir the tomatoes in at the end.
I love quick and easy pasta meals like this. We all need more get it on the table fast meals and this is a new favorite at our house.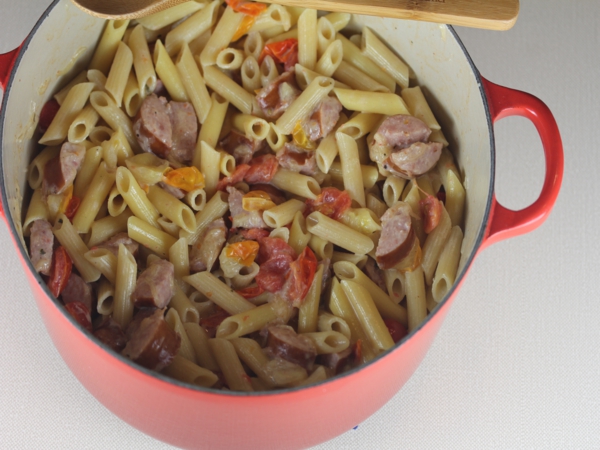 15 Minute Dinner Sausage Alfredo
16 ounces pasta
1 pound smoked sausage cut into chunks ( I used Hillshire Farms)
2 teaspoons cajun seasoning ( I used homemade Emeril's seasoning)
1 1/2 cups heavy cream
3/4 cup milk
3/4 cup grated parmesan cheese
1 cup cherry tomatoes, sliced
Cook pasta according to directions.
While pasta is cooking cook sausage in a skillet for about 5 minutes or until lightly browned.
Add tomatoes and stir for 1 minute.
Add cream, milk, and seasoning. Simmer for 3-4 minutes or until mixture begins to thicken slightly.
Stir in Parmesan and remove from heat.
Stir in pasta and stir until pasta is well coated with sauce.
Serve.