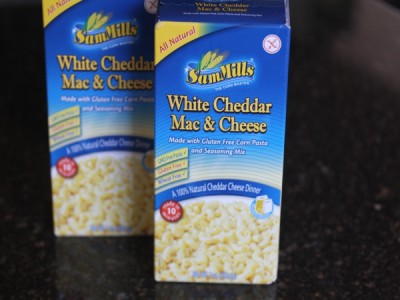 First of all I want to start by saying that this is not a sponsored post. Sam Mills has no clue who I am and they did not pay me to promote them. This is just a gluten free product that my family tried and enjoyed and I wanted to share it with you all.
I will also say that boxed macaroni and cheese is not something that I bought very often before going gluten free. I prefer the real homemade full of delicious cheese kind. But occasionally we all need a meal to turn to on those crazy busy days or on a day where mom is sick and dinner still needs to get on the table. Boxed macaroni and cheese is perfect for those kind of days. And let's face it, most kids love it and would eat it all the time if we let them.
All those reasons are why I decided to give this Sam Mills gluten free mac and cheese a try when I saw it at Sprouts a few weeks ago.
The other reason I tried it was that we really enjoy the Sam Mills pasta, so I knew the pasta part of this mac and cheese would at least be good. And it was good. It was actually really good.
My kids really liked this. Or I should say really like it for boxed mac and cheese. They still prefer homemade macaroni and cheese, but I will be keeping this on hand for an occasional quick and easy lunch.
My thoughts on this are that it is not the same as the gluten filled famous brand, but it is good, especially for a gluten free boxed meal. Will we eat this all the time, no we won't. But we definitely thought this was good enough to keep on hand when we need a quick and easy gluten free meal.
My kids and I give this a 4 out of 5 stars.
Have you tried any of the gluten free boxed macaroni and cheese? If so what is your favorite?