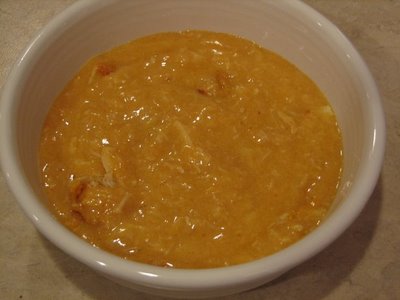 Last Saturday I was tired after a week of baking and cooking a lot and preparing and cleaning up from the office party. I had originally planned on going out to eat, but decided that I should just cook something at home. The trouble was I did not feel like cooking.
I wanted to make something quick and easy that would not require much time in the kitchen. I decided that I had everything to make my Enchilada Soup. I have made this many times over that last few years. However, because it is not very healthy, and calls for a lot of canned foods, I had not fixed it recently. I decided it would be a good time to make it again. After all, it was healthier than eating out.
It was so nice and easy and we all enjoyed it. I hope you do too.
I like to serve this with tortillas or tortillas chips

Enchilada Chicken Soup
1 can (11 ounces) condensed nacho cheese soup, undiluted ( if you want this spicier use fiesta nacho cheese soup)
1 can (10-3/4 ounces) condensed cream of chicken soup, undiluted
2-2/3 cups milk
2 cups cooked chicken
1 can (10 ounces) enchilada sauce
1 can (4 ounces) chopped green chilies
Sour cream (optional)
Combine all ingredients except sour cream in crockpot. Cook on low for about 3 hours or until heated through. Serve with sour cream.

For more slow cooking ideas see
Slow Cooking Thursday.
Adapted from Taste of Home