Quiche can be a quick and easy dinner just skip the crust and make this Crustless Sausage Quiche. Crustless Sausage Quiche is a delicious quiche made quick and easy without the crust.
Quiche is one of my favorite easy dinners because it contains ingredients that I almost always have on hand.
It is also easy to change up with whatever meat, cheese, and vegetables that I have or find on sale.
If you have been reading my blog for awhile you know I like variety. I get tired of making the same recipes over and over. Quiche is no exception to that. I like to change things up when I make quiche for dinner.
Over the years I have shared spinach quiche, crustless taco quiche, bacon cheeseburger quiche, fajita quiche, and a crustless cheese quiche.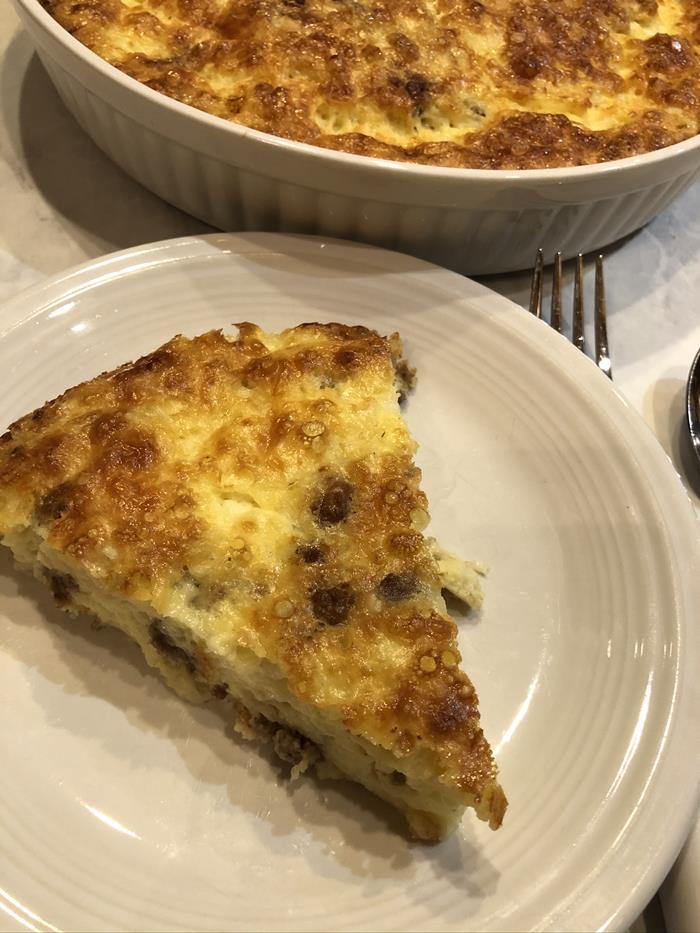 Most of my quiche recipes are crustless because skipping the crust makes it quick and easy.
And really my family doesn't miss the crust when it comes to quiche. A pie is better with a crust, but quiche can easily do without it.
Skipping the crust usually skips some of the fat and calories. I love a good pie crust, but since most quiche recipes call for cheese and other dairy, skipping the crust skips some of those calories.
Crustless quiches also work well for gluten free cooking.
One of the things that I like about this recipe is that it makes two large quiches. That means that you can usually get several meals out of this recipe.
It works great for breakfast for dinner and then the leftovers make an easy breakfast or lunch the next day.
This crustless sausage quiche is a little different because instead of milk it has cottage cheese in it. Yes, cottage cheese.
This gives it a little different texture than a regular quiche, but we like it. I know many of you may not like cottage cheese, but you really can't tell that is what is in this. The cottage cheese just helps give it a great thick texture.
This recipe is adapted from an old Taste Of Home Recipe. I have made this recipe for at least ten years. I have adapted it quite a bit over the years, but it is still a favorite.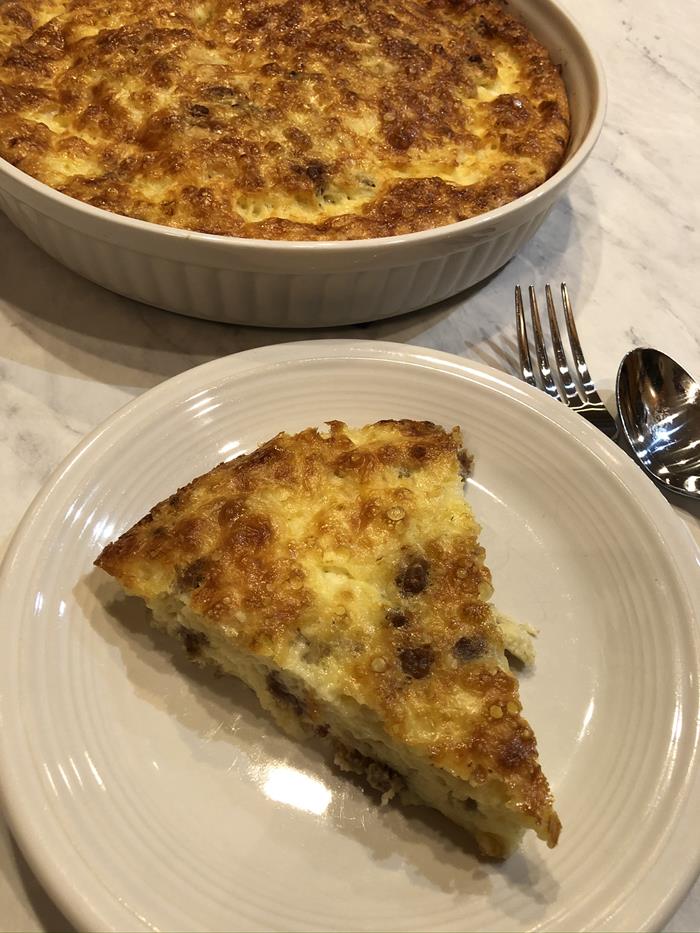 Yield: 16
Crustless Sausage Quiche
Crustless Sausage Quiche is quiche made quick and easy by skipping the crust.
Ingredients
1 pound bulk mild pork sausage
12 eggs
2 cups (16 ounces) cottage cheese
3 cups shredded Monterey Jack cheese
1 cup shredded mozzarella cheese or cheddar cheese
1/2 cup all-purpose flour ( for gluten free version use a gluten free flour blend)
1/2 cup butter, melted
1 teaspoon baking powder
2 cups sliced fresh mushrooms, optional
3/4 cup chopped onion, optional
1 can (4 ounces) chopped green chilies, drained, optional
Instructions
In a large skillet over medium heat, cook sausage until no longer pink. Drain off any fat. If using mushrooms or onions in recipe cook with the meat until tender.
In a large bowl beat together eggs, cheeses, flour, butter and baking powder until well combined.
Stir in sausage. If adding green chilies or other add ins also stir them in.
Transfer to two greased 9-in. round baking dishes, quiche pans, or 8x8 square pan. Pans will be full.
Bake at 375° for 35-38 minutes or until toothpick or knife inserted near the center comes out clean.
Notes
Recipe can be made with bacon or ham in place of the sausage.
Originally posted February 2010. Updated November 2019.