This chicken enchilada soup is a recipe I shared my first year of blogging way back in 2008. I used to make this recipe all the time because it is so easy to make.
I have served this soup to company. I have taken it to potluck dinners. I have made it for friends who needed a meal. I have made it for my own family many times over the years.
Two weeks ago I had surgery. Right now I am all about easy dump in a pan or in the crock pot type of meals like this. This has me going through my site to find some of our old quick and easy favorites.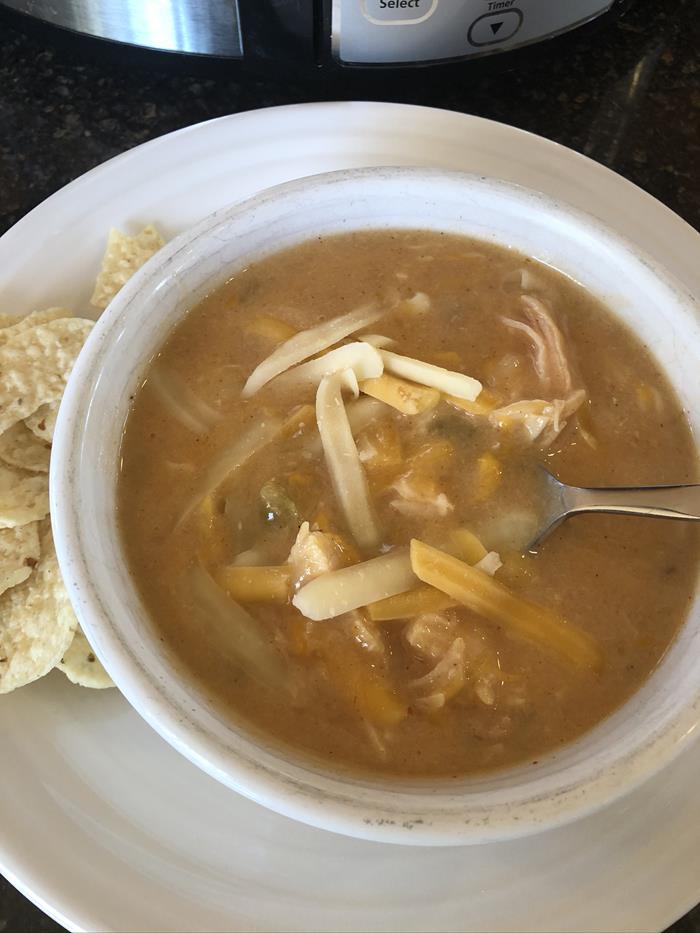 I know that this is not the healthiest of soups, but it is so good and my kids love it. I love how easy it is to make and some days you just need a super easy family friendly meal.
I decided that today it was time to reshare this recipe today. It is a great soup when you need something easy for dinner this time of year.
I have some old recipes that contain canned soup or cream of whatever soup. You wouldn't believe the hate email and comments you get when a recipe contains those things. Seriously, there are some major haters of anything canned soup, especially the cream of whatever soup.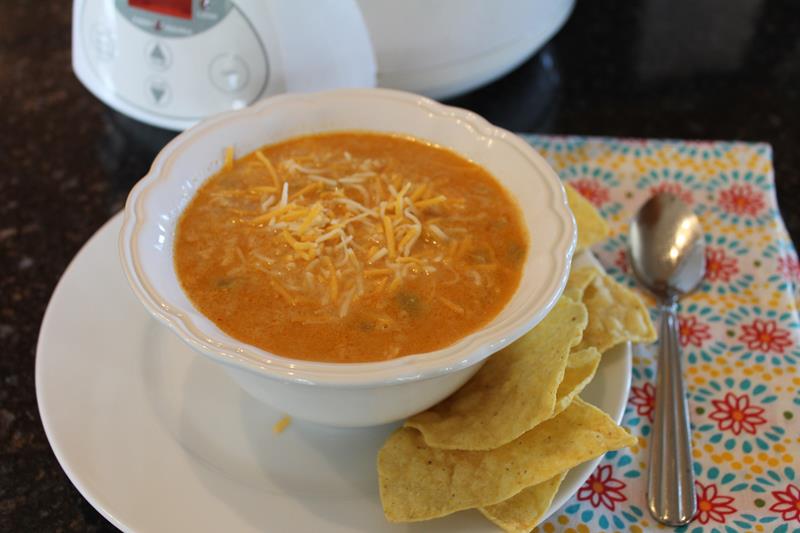 If you dislike canned cream of whatever soup, that is fine with me. I understand. Just skip pass this recipe and try one of my other delicious homemade soup recipes. Or use your favorite homemade version of cream soup.
My thoughts on cream of whatever soup are this. It is not the healthiest. I know that. I use it in a few recipes and only occasionally. We don't eat out a lot. In fact, we rarely eat out.
This soup might not be the healthiest, from scratch soup, that I have every shared, but it is healthier than most fast food. It is so easy to make and the ingredients are easy to keep on hand. So I serve it to my family with no guilt.
I like to serve this with tortillas or tortillas chips and a salad. This soup calls for a couple of cups of cooked shredded chicken, but I have also used canned chicken in this and it works as well. The texture isn't quite as good with canned chicken, but if you need a simple soup for dinner and do not have cooked chicken, canned chicken will work.
Can you make this gluten free?
Yes, you can. I share in the recipe notes how to make this gluten free. Yes, there are gluten free cream soups out there. Pacific brand is my favorite gluten free cream soup.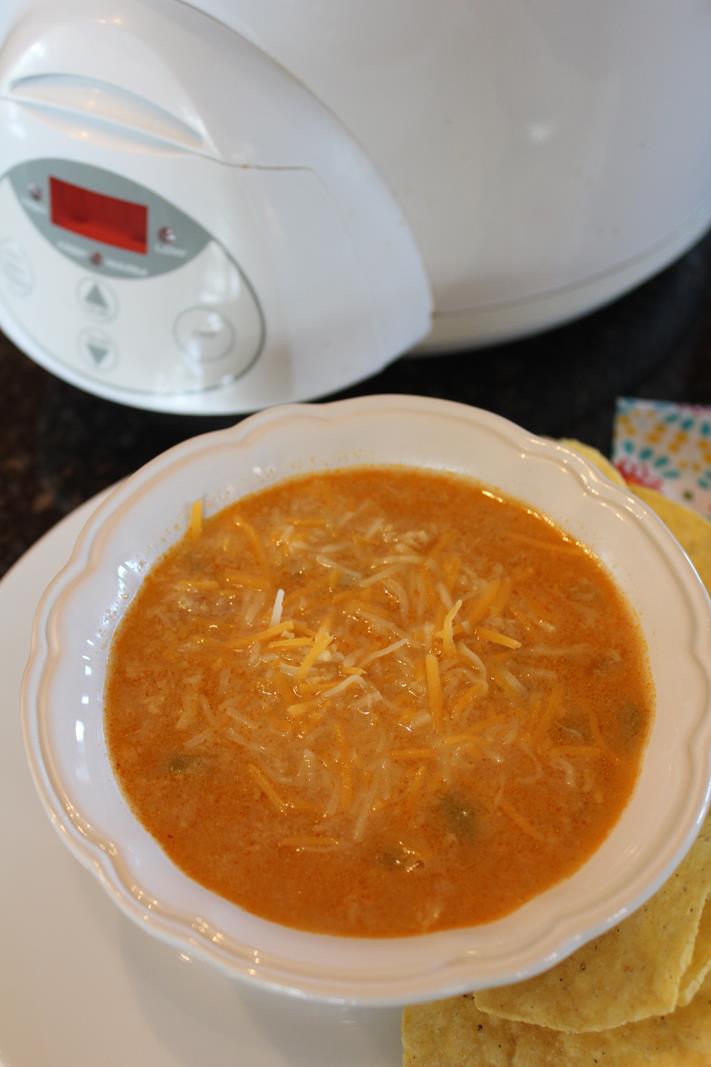 Yield: 10 servings
Enchilada Chicken Soup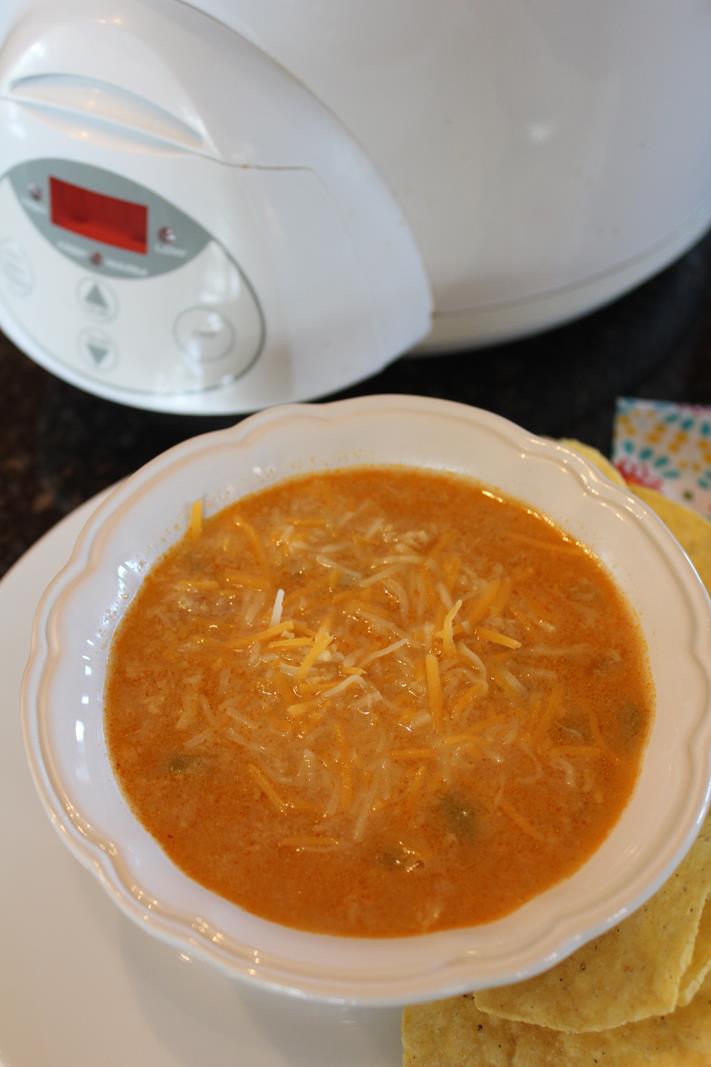 Enchilada Chicken Soup is an easy and delicious soup that everyone loves. It goes together in no time using basic ingredients that you probably have on hand.
Total Time
3 hours
5 minutes
Ingredients
1 can (11 ounces) condensed nacho cheese soup, undiluted ( if you want this spicier use fiesta nacho cheese soup)
1 can (10-3/4 ounces) condensed cream of chicken soup, undiluted
2-2/3 cups milk
2 cups cooked chicken
1 can (10 ounces) enchilada sauce
1 can (4 ounces) chopped green chilies
shredded cheddar cheese and sour cream for serving
Instructions
Combine all ingredients except cheddar cheese and sour cream in crock pot.
Cook on low for about 3 hours or until heated through.
Serve with shredded cheese and sour cream if desired.
Notes
To make it gluten free: Be sure to get gluten free canned soups. Most cream soups are not gluten free, but there are a few that are. If you can't find a gluten free cheese soup just use two cans of cream of chicken and stir in some cheddar cheese. I have done that and it works great! You can also use a gluten free home cream soup recipe in place of the canned soup.
Recipe can also be made and heated on the stove top instead of using a slow cooker. Cook for 15- 20 minutes or until heated through and flavors are combined.
Adapted from Taste of Home. Originally published December 2008. Updated November 2019.