Have you ever wondered what to do with extra cranberry sauce? Turn in into these delicious chocolate cranberry muffins with leftover cranberry sauce.
Do you have some cranberry sauce left in the fridge? Or do you have a can of cranberry sauce in the cupboard that has been there way too long and that might need used up? Turn that cranberry sauce into muffins!
I had not planned on posting this weekend. I was going to take off the holiday weekend from posting my menu plans or any recipes.
But last night I made muffins with some leftover cranberry sauce that I had and they turned out so well that I knew I had to share the recipe.
I also wanted to be sure to share the recipe so that I could remember it for next year.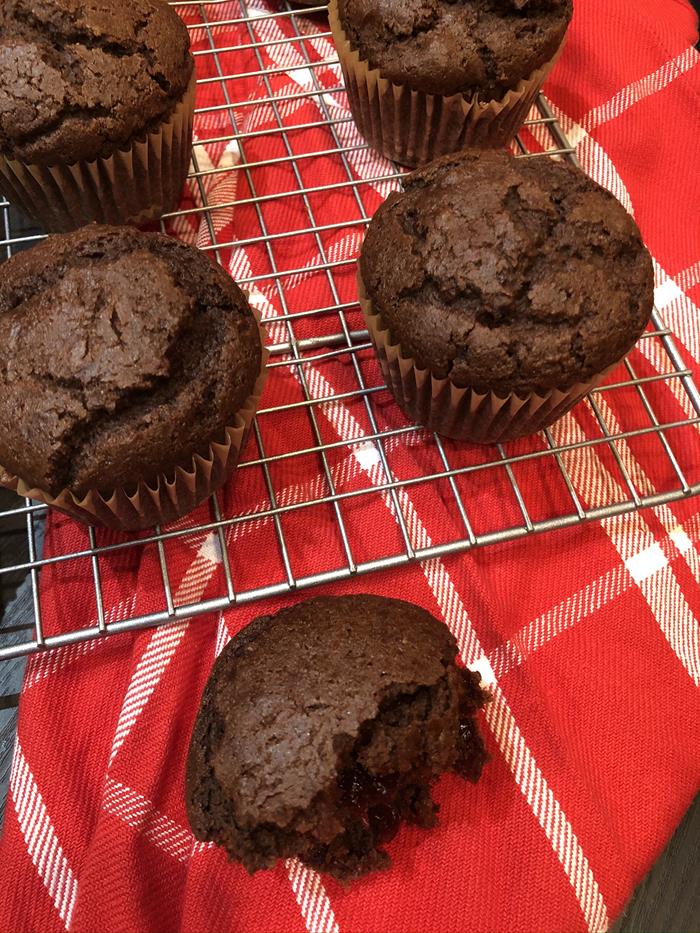 Please tell me I am not alone in having that family member that loves canned cranberry sauce?
In my family it is my husband. He loves canned cranberry sauce with his turkey. I don't love cranberry sauce and often forget all about serving it, but if I am going to eat it I definitely prefer homemade cranberry sauce over the canned kind.
My husband is the exact opposite. There is something about the canned sauce that he loves.
The trouble is that since we often have only a few people over for Thanksgiving, and he is the only one that enjoys cranberry sauce, we always end up with leftover cranberry sauce that no one eats.
This year as I stared at the bowl of leftover cranberry sauce in the fridge, I decided to get creative and find a way to use it up.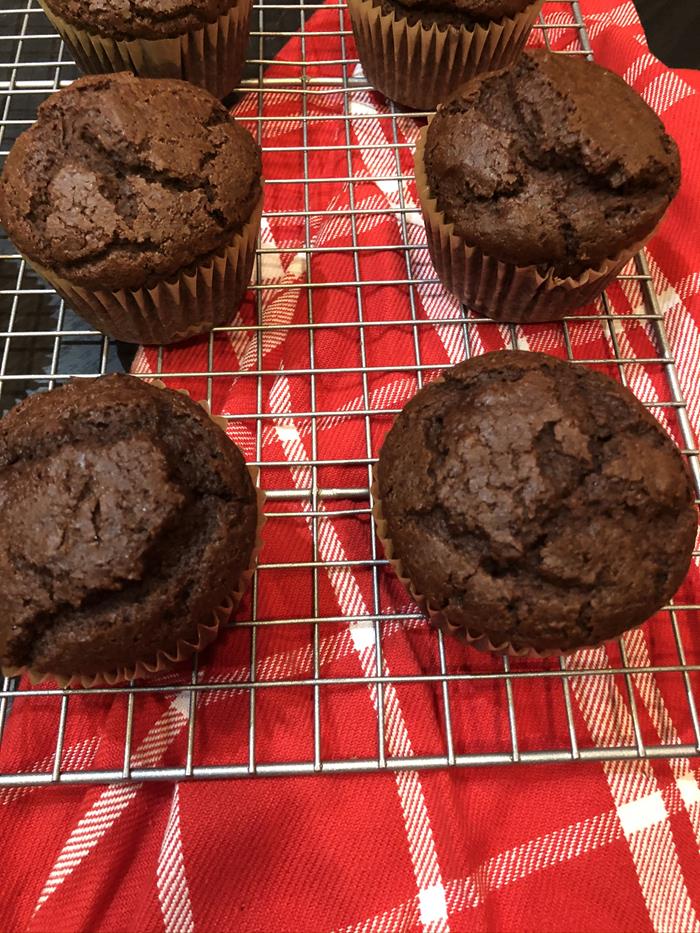 I did some searching online and found several recipes for breads and desserts that used leftover cranberry sauce, but none were quite what I was looking for.
I wanted to try to make something we could use for breakfast this weekend. I decided to see if I could come up with a muffin recipe using cranberry sauce.
Betty Crocker has a recipe for cranberry sauce muffins that looked good, but I knew my family would enjoy them more if they were chocolate muffins. So I adapted the recipe and made them chocolate cranberry sauce muffins and they were so good!
They are also easy to make gluten free. Yes, you can make these gluten free muffins with leftover cranberry sauce.
I have not tried these with homemade cranberry sauce, but I think it would probably work just fine.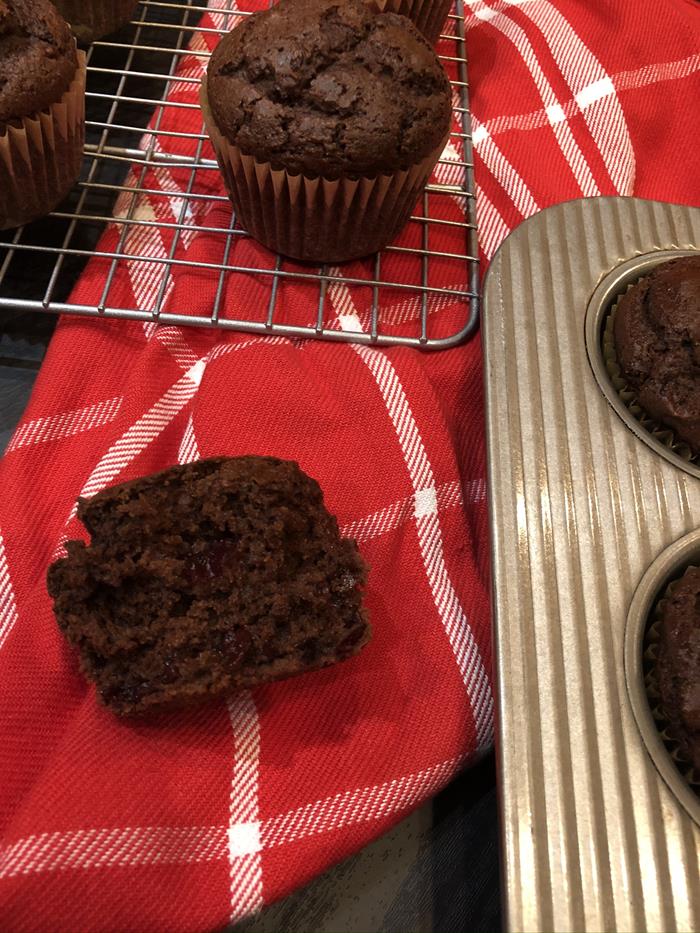 You only need a few simple ingredients to make these.
flour or gluten free flour blend
sugar
baking powder
salt
milk
oil
vanilla
egg
leftover cranberry sauce
Need a new muffin pan or need a gift idea? This is my favorite muffin pan. It is really the only muffin pan I have used for years.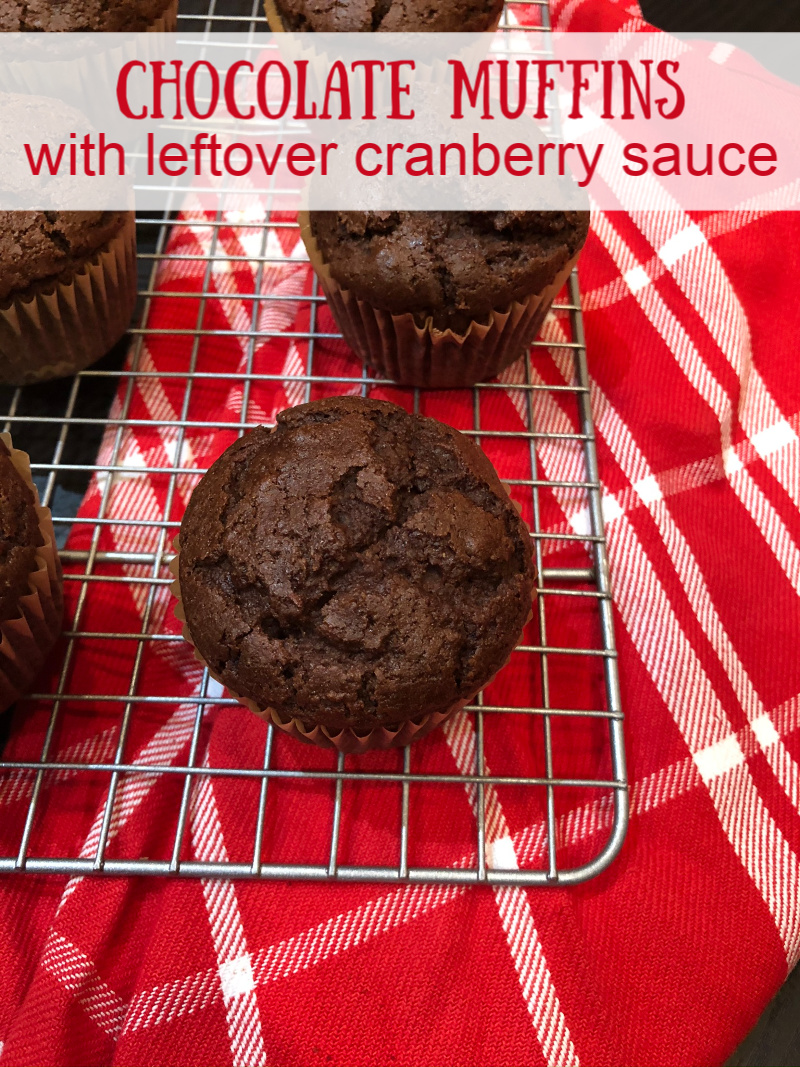 Yield: 15 muffins
Chocolate Muffins with Leftover Cranberry Sauce
Do you have some leftover cranberry sauce? Or have you had a can of cranberry sauce in the cupboard for way too long? Use that sauce up in these chocolate muffins with leftover cranberry sauce.
Ingredients
1 1/2 cups flour or gluten free flour blend
1/2 cup baking cocoa
1 cup sugar
3 teaspoons baking powder
1/2 teaspoon salt
1 cup milk
1/4 cup oil
1/2 teaspoon vanilla
1 egg
1 cup leftover cranberry sauce or 1 cup canned cranberry sauce
Instructions
Preheat oven to 350 degrees.
Line muffin pan with muffin liners or grease well. This makes about 15 muffins.
In a large bowl combine flour, cocoa, sugar, baking powder, and salt.
Make a well in the center of the dry ingredients for milk, oil, vanilla, and egg and stir to combine. Mixture will be thick.
Stir in cranberry sauce.
Scoop batter into muffin cups filling each about 3/4 full.
Bake for 18-20 minutes or until toothpick inserted into the center comes out clean.
Notes
To make these gluten free I used Bob's Red Mill 1 to 1 gluten free flour blend.
For even more chocolate stir in 1 cup chocolate chips.