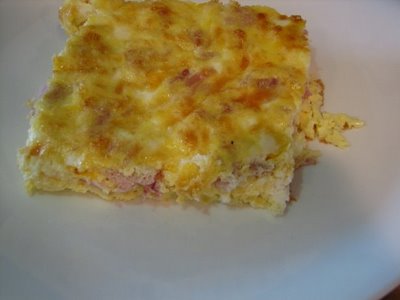 This recipe is easy to make, quick to put together, and only takes about 20 minutes to cook. I love this dish because it makes a great breakfast. But if you add some bread and fruit it also makes an easy and frugal lunch or dinner.
My family likes the basics in this. Well, I guess I should say my kids like the basics in this. But you can add green peppers, mushrooms, onions, etc. to it if you like.
Oven Omelet
8 eggs
1/2 cup milk
1 cup shredded cheddar cheese
1 cup chopped ham or sausage, cooked
Beat eggs and milk until combined. Stir in cheese and sausage. Pour into a greased 8×8 or 9×9 pan (you can also bake this in a pie pan, but you may have to change the cooking time). Bake at 400 degrees for 20 minutes. Cut into squares and enjoy.