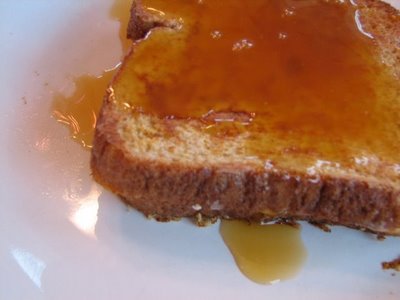 I have recently seen several different recipes online for Buttermilk Syrup that you use on pancakes, waffles, etc. Most of them received very good reviews. I thought the idea sounded interesting and neat. I thought it might be a nice change from our normal pancake syrup.
We normally keep some real maple syrup on hand. It is very expensive to buy, but if my husband wants syrup on his pancakes this is what he likes. When the kids put syrup on their pancakes they use something like Mrs. Butterworth. Which is not exactly healthy.
I went through a time quite a few years ago when I made my own maple flavored syrup. It was okay for what it was, but not quite what we wanted all the time.
So the idea of buttermilk syrup made at home sounded like a good idea to me. I read several places that it was similar to what some breakfast and waffle style restaurants serve for their vanilla flavored syrup. I would agree with that. I have tasted syrups very much like this before.
We really enjoyed this syrup. It was easy to make and it was a nice change. This is really good, but don't expect it to be like a regular store bought syrup. This has a distinct flavor that is different, but really good.
I will say though that we use more of this then we do regular syrup. It is thicker and creamier. It did not go as far as I thought it would. But because it is a buttery, creamy syrup I don't think you need anything else on the pancake.
Some in my family still used butter or peanut butter on their pancakes with syrup, but I did not. I thought it was very good without the butter. I just poured the syrup on them and enjoyed it. I hope you do too.
Yield: 6 servings
Buttermilk Syrup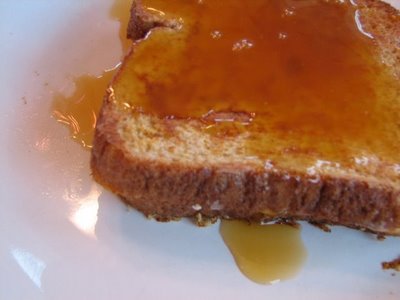 An easy to make old fashioned syrup for pancakes, French toast, and waffles.
Ingredients
1 1/2 cups sugar
3/4 cup buttermilk
1/2 cup butter
1 teaspoon baking soda
2 teaspoons vanilla
Instructions
Place first four ingredients in large saucepan. You want this to be a much bigger pan then you think you need. It really foams up.
Bring to boil and cook for 7 minutes (mixture will foam), stirring constantly to prevent burning.
Remove from heat and stir in vanilla extract.
Serve with pancakes, waffles, or french toast.
Refrigerate.
This does thicken, so you will have to reheat it to use it again. But that works find because syrup is better warm. At least I think it is.
Nutrition Information:
Yield:
6
Serving Size:
1
Amount Per Serving:
Calories:

346
Total Fat:

16g
Saturated Fat:

10g
Trans Fat:

1g
Unsaturated Fat:

5g
Cholesterol:

42mg
Sodium:

390mg
Carbohydrates:

52g
Fiber:

0g
Sugar:

52g
Protein:

1g
Nutritional values are approximate and aren't always accurate.