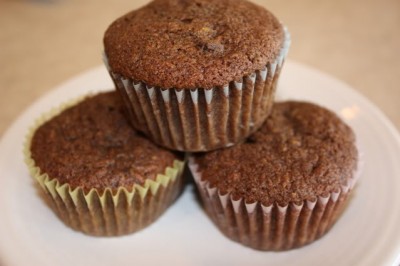 I have a lot of zucchini right now. I am trying to get creative in using it. My family is getting tired of the ways we have been eating it, so I am trying to come up with some different things.
I thought muffins sounded good, but I did not have a zucchini muffin recipe. I decided to try to come up with my own. I tweaked a recipe, added some whole wheat, changed the liquid to buttermilk and gave it a try.
It worked great. My kids loved these. We had them for an afternoon snack and again for dessert the other night. These were easy. They used what I had and they are semi healthy. A great combination for a recipe.
I used part whole wheat in this, but you could use all regular flour if you like. I like the idea of using part whole wheat to make them healthier.
Whole Wheat Chocolate Zucchini Muffins
1/2 cup butter
1/2 cup oil
1  1/2 cups white sugar
2 eggs
1/2 cup buttermilk
1 teaspoon vanilla extract
1 cup all-purpose flour
1 cup whole wheat flour ( I used whole wheat pastry flour)
1 teaspoon baking soda
1/2 teaspoon salt
4 tablespoons unsweetened cocoa powder
2 1/2 cups grated zucchini, I used the smallest side of my grater b/c I like it small. ( I did not really measure this. I used 1 med zuch.)
1/2 cup semisweet chocolate chips
Place grated zucchini in a strainer and drain as much liquid off as you can. Set aside.
Cream together butter, oil and sugar. Add eggs, buttermilk, and vanilla. Blend well. In a separate bowl, mixdry ingredients together. Mix dry ingredients into the butter mixture well. Add grated zucchini, and mix well. Stir in chocolate chips. Scoop into muffin pan lined with paper liners or greased well. Bake at 325 degrees F  oven for 18-20 minutes. Makes 24 muffins.
For more frugal tips and recipes see Frugal Fridays and Grocery Cart Challenge.