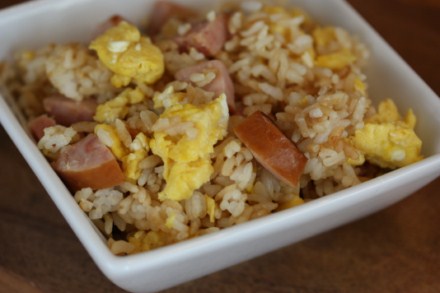 Fried rice may not be what you think of when you think of breakfast, but it is a very good and inexpensive meal. It is simple to fix and and so easy to make a large batch up for the week.
Breakfast fried rice is mainly rice and eggs, with a little big of meat added in. It is filling, healthy, and very good.
This freezes great and can easily be defrosted and reheated as you need it. It also makes a really good lunch or breakfast for dinner.
This breakfast fried rice is basically the same as my pork fried rice, but I add in a little extra egg and I use a kielbasa or breakfast type sausage as the meat. I also leave out the veggies in this, but like any fried rice, you can really make this your own and add whatever you like to it.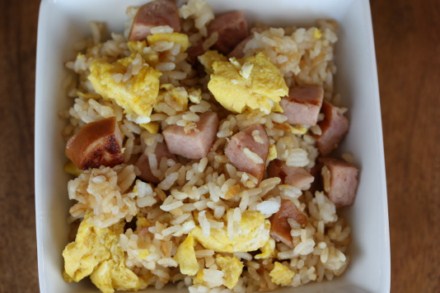 Pork Fried Rice
2 tablespoons oil
4 eggs
4 tablespoons soy sauce ( I use gluten free)
1/2 lb Kielbasa style sausage cut into chunks (I use the precooked kind)
2 cups cooked rice (cold leftover rice is best)
2 tablespoons rice vinegar
Mix together 2 tablespoons of soy sauce with the eggs and beat well.
Heat 1 tablespoon of oil in a large skillet or wok.
Add egg to pan. Swirl and scrape egg to cook, basically you are scrambling this, but do not over cook it. You want this to error on the side of not done because you will be adding this back to the pan later on.
Remove egg from pan and set aside.
Return pan to stove.
Add a little more oil (I use bacon grease if I have it.)
Rice and cook for 4-5 minutes or until rice is starting to lightly brown.
Add the egg back to the pan along with the meat, remaining soy sauce and the rice vinegar. Let cook for 2-3 minutes more.
Add more soy sauce to taste.
Serve and enjoy!