Gluten free banana bundt cake with maple glaze is delicious! Really this is a must make if you love bananas.
Last week I shared a recipe for gluten free chocolate chip banana cookies and this week it is gluten free banana bundt cake. I guess this means that we love bananas at my house.
Or it means that we often have overripe bananas on the counter because we did not eat them up fast enough. Well, if this cake is the result of too many ripe bananas, I will take it. This cake was so good.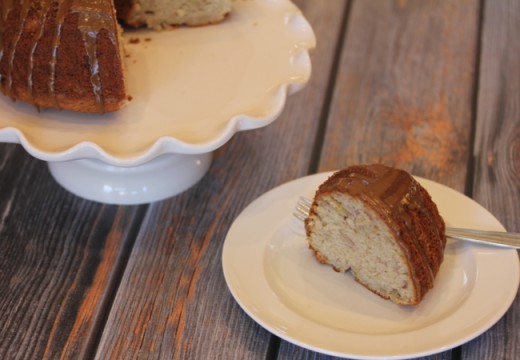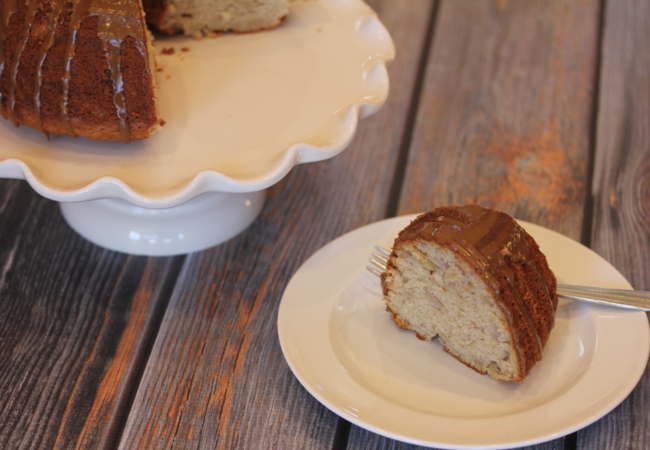 I adapted an old recipe for banana bundt cake to make it gluten free. I was going to do a basic powdered sugar glaze, but then I remembered the maple glaze that I used on the breakfast cake I made awhile ago, and thought it would be perfect for this cake.
It worked great. The flavors of banana and maple were perfect together.
This would be a great dessert for tonight, or any night, if you have some bananas that need used up.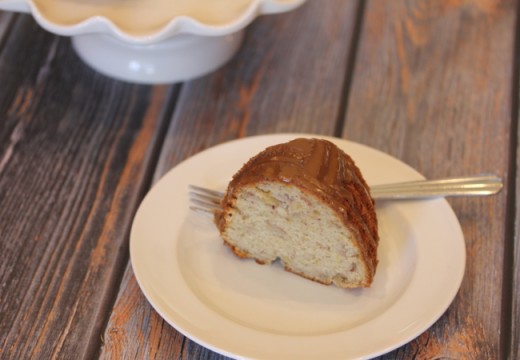 Gluten Free Banana Bundt Cake with Maple Glaze
1/3 cup oil
1 1/4 sugar
2 eggs
1 teaspoon vanilla extract
1 1/4 cup mashed banana- about 3 bananas
1 1/2 cups white or brown rice flour
1/2 cup potato starch
1/4 cup tapioca starch
1/2 teaspoon xanthan gum
1 1/4 teaspoons baking powder
1 teaspoon baking soda
1/2 teaspoon salt
1 cup sour cream
Preheat oven to 350 degrees.
Grease a bundt pan and set aside.
In a large bowl beat butter and sugar until well mixed.
Add eggs one at a time. Beat until well combined.
Add vanilla and bananas and mix until combined.
In a bowl combine rice flour, potato starch, tapioca starch, xanthan gum, baking powder, baking soda, and salt.
Add half of the flour mixture to the banana mixture.
Add sour cream and mix until combined.
Add remaining flour mixture.
Spread into bundt pan.
Bake for 50-55 minutes.
Let cool in pan 5-10 minutes. Remove from pan to wire rack to cool.
Drizzle maple glaze, recipe below, over cake.
Maple Glaze
1 cup powdered sugar
2 teaspoons maple flavoring
1-2 tablespoons milk.
In a small bowl combine powdered sugar, maple flavoring and 1 tablespoon milk.
Whisk together until smooth. Add enough remaining milk for desired glaze consistency .