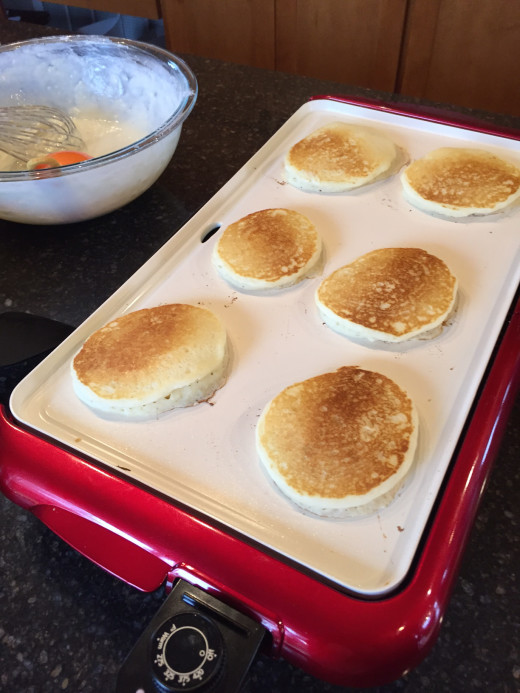 This post contains affiliate links. Thanks for supporting this site. 
I posted a few months ago about a new griddle that I bought and I realized that I had not shared an update about it. I love it, so I thought it would be a perfect thing to share for a gift giving post.
I have owned a griddle for years. I love how a griddle cooks pancakes, french toast, grilled cheese, and quesadillas. A griddle usually gives you a more even temperature than stove top cooking. It also usually holds a lot more food than a skillet on the stove.
For years I owned an electric griddle that I loved. At least I loved it until the non-stick coating wore off. I would have bought the exact same griddle, but the brand no longer makes griddles so I researched what I should replace it with.
I love griddles, but I have a love hate relationship with non-stick coating. I love it for easy clean up, but I do not like the fact that it often wears off easily. Because of this I was a little hesitant to buy a regular non-stick one.
I ended up getting the Oster DuraCeramic Griddle
 and so far I love it. The clean up is so quick and easy. Most of the time it just wipes clean. I have not used it to cook meat or something very greasy, but for things like pancakes, french toast, and grilled cheese the clean up is a breeze.
I also love the way it cooks. I think it cooks evenly and well. It does cook a little hotter than my last one, but I think my last one may not have heated as well because of it's age. So I am loving how this one heats and cooks.
I had a little trouble the first few times I used it, but once I figured out that I needed to lower the temperature a little I love it. It cooks much better than my last one did.
My girls love this as well. They think it works great for Saturday morning pancakes.
The Oster DuraCeramic Griddle
 has a warming tray which I did not really care about at first. I did not think it was a feature that I would use that much, but we love it. It works great for keeping pancakes warm. It doesn't hold a lot, but it works well for keeping a few things at a time warm.
The price of this griddle is a little higher than some ceramic griddles, but so far I think it is worth it.
If your family or someone you know loves making pancakes, grilled cheese, and other things like that and they don't have a griddle this would make a great gift.
A griddle definitely makes life in the kitchen easier!
And this is not a sponsored post. They have no clue who I am. This post contains affiliate links, but besides that I am simply sharing a product I use and love.